3 Keys to Affiliate Income, Part 1
Sunday, February 10th, 2013 at 11:51 pm
GT Bulmer © Affiliate Power Central
When building an Internet Marketing business, and generating affiliate income, there are many factors that come into play. The key attributes of success will depend on what aspect of the process you are focusing on at the time.
This post will be the first in a series of three, and each post will in turn highlight three key factors involved in achieving Affiliate Marketing success.
Today, we will look at Sales, Recruiting and Duplication. I will keep this information generic so it can be applied to any Internet income opportunity. …
1) Product Sales
Product (or service) sales are a key element to the success of an online affiliate business. Every business has to be selling something; otherwise it is not a legitimate business.
As a marketer, you earn affiliate income from the sale of products or services. The more value and appeal your items have, the better your chances of making sales.
Also, the more confidence you personally have in the value of the products, the more effective you will be in promoting them, so choose products that you feel comfortable selling.
2) Recruiting and Sponsoring
With some affiliate companies, you earn income from product sales and that is the extent of the income potential. Your financial future depends solely on your own ability to generate customers.
Other companies allow you to recruit or sponsor other sales representatives, or affiliates, into the business, and depending on how the compensation plan is set up, you may be able to earn sales commissions or group volume rewards based on purchases and sales they make to their customers.
Obviously, it is far better to earn income and bonuses based on the purchases and sales volume of a group than it is to rely on your efforts alone. Recruiting and sponsoring does involve another level of experience and ability, but learning and developing those skills is well worth it once your team, and their monthly group volume, begins to grow.
3) Duplication
Duplication is the real key to Affiliate Marketing success. Team building can be powerful, but the power isn't in the numbers; it is in the sales performance of the group.
Every team needs a leader, and one of your priorities should be to develop into an awesome leader. That means you must be dedicated to learning the business, and then committed to teaching your team members the preferred marketing methods. Communication is vital, and encouragement is a great motivator. Get them duplicating your success actions and you've got it made!
Product Sales, Recruiting, and Duplication are the three key starting points for developing your affiliate income. Watch for my next post where we will look at three key personal qualities that will enhance your chance for Internet Marketing success.
~ ~ ~

* You might also enjoy these Affiliate Marketing posts:

~ Affiliate Marketing Business Includes 12 Free Websites

~ Internet Income Opportunities Still Viable Solution

~ Advanced Marketing Opportunity for Go-Getters

~ ~ ~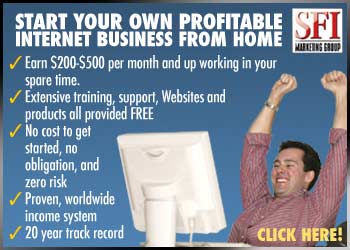 ~ ~ ~
Tagged with: affiliate income • Internet Marketing
Filed under: Affiliate Marketing
Like this post? Subscribe to my RSS feed and get loads more!