Affiliate Marketing Network Back Online
Tuesday, February 26th, 2013 at 2:42 pm
GT Bulmer © Affiliate Power Central
Well, it was never really offline, but last week, during some major server upgrades, there were some very tense moments for members of the SFI affiliate marketing network. It tested everybody's patience, that's for sure.
Over the past number of years the SFI Marketing Group has emerged as a leader in providing people around the world with excellent Internet income opportunities. You can work from home and focus on either direct product sales, or network team leader rewards, passive residual income channels, or … all of the above!
But last week, during the server changeovers, things got shook up a little bit and that got a few people riled up. Hey. It happens. Deal with it. …
The thing is, every good company is going to go through some kind of growing pains at various stages in its development.
If you look at SFI's track record, you will see that they have consistently provided great service, resources and support to members of their affiliate marketing network. We need to cut them a little slack when they experience the occasional hiccup; especially when the hiccup is aimed at strengthening the company and the Internet income program for OUR benefit.
I know what a few of my readers might be thinking at this point: where was the slack I cut them a couple of years ago when they made major changes to the marketing plan and I stopped promoting the opportunity for a while?
Well, I can be transparent here. I've got nothing to hide. My marketing focus was different at that time and I wasn't truly focusing on the SFI opportunity anyway. To be honest, I didn't take the time to truly analyze the purpose of the changes and, as a result, I totally overlooked the value and the vision of those changes. I was just irked because my monthly SFI income dropped and I wasn't willing to give it a chance to come back.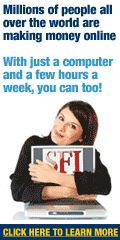 That is, until last year when I came to my senses. After giving the new marketing plan a fresh review I then "caught the vision" for where it was leading. I could clearly see how affiliate members who were dedicated and determined would be able to make immediate monthly income while creating a foundation for ongoing residual income.
I'm not saying it is a fast or easy process. No, it is a business like any other where you need to learn the business, apply what you learn, develop your skills and then keep on doing the basics until you reach the level of monthly income you desire. It takes dedication and determination.
But that is why I returned to SFI. I found from my travels through the wonderful world of Internet Marketing that ALL marketing plans had similar challenges: they promised the world, but didn't tell you how much work and commitment would be required.
The difference with SFI is that it has all of the elements necessary for long-term Internet affiliate success. That's in my opinion, anyway, based on my experience with various other marketing plans and opportunities.
Oh, and it does require something else from you, beyond the typical need for focus and determination: you must show a little patience and understanding when events occur like last week's server shake-up! Those things can happen. That's life.
The SFI affiliate marketing network continues to be a leader in the industry and is now stronger than ever. Now that the servers have been updated and the major hiccups have been resolved, SFI president Gery Carson promises that some great new features to the marketing plan are on the way.
We are entering into exciting times with the SFI Marketing Group! If you are not already an affiliate member, join my team today. There is no cost or obligation and there are never any purchase requirements.
~ ~ ~
* You might also enjoy these Affiliate Marketing posts:
~ Website Tips for Affiliate Marketers
~ 3 Keys to Affiliate Income, Part 3
~ Affiliate Marketing Business Includes 12 Free Websites
~ ~ ~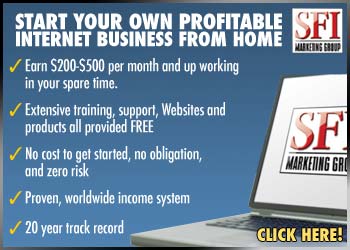 ~ ~ ~
Tagged with: affiliate marketing network • real internet income
Filed under: Affiliate Marketing
Like this post? Subscribe to my RSS feed and get loads more!