Affiliate Marketing Online
Saturday, September 27th, 2014 at 5:22 pm
GT Bulmer © Affiliate Power Central
Has Affiliate Marketing online become more challenging in recent years? Not really. While it is true that Internet Marketing keeps changing and the competition may have increased, the basic opportunity to succeed online remains.
There was a time when all you had to do was put up a decent looking website, get involved in a few social marketing communities, do a little article marketing, and you were set. Website traffic started flowing and you just had to maintain your presence online.
In recent years, with more home business enthusiasts jumping on the bandwagon combined with advances in marketing technologies plus radical changes to the process of search engine marketing, many marketers are finding it more difficult to get traffic and generate sales. …
That doesn't mean that the potential does not still exist for Affiliate Marketing online. It only means you have to work smarter and work harder to rise above the competition and persuade your targeted audience to give you a little love.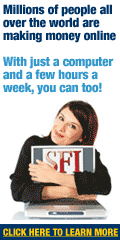 It begins with choosing a reputable company with in-demand products and services to promote and a dependable, rewarding marketing and compensation plan. It is no secret that my affiliate company of choice is the SFI Marketing Group.
Good companies like SFI provide their affiliates with professional marketing sites or pages as well as other marketing materials and full training and support. All of these are free with SFI, while some companies may charge their affiliates for them.
Even if a company provides its members with marketing websites, I still consider it valuable to have your own website as your home base online. It should be attractive visually and easy to navigate. Adding new, unique content regularly is also important if you want to keep prospects coming back and if you want a fighting chance in the search engine results.
Building and maintaining your presence online has become even more important in today's challenging market. Your active participation on social media sites like Facebook, Twitter, LinkedIn, Pinterest and Google Plus can make a decided difference in your marketing and sales success as an Internet Marketer.
Article marketing can still be a valuable process, but syndicating an article across several websites or networks can get your site (and others) in trouble with Google. Once again, new, unique content is the safest and most effective way to go with your articles. Write exclusively for your website. Write exclusive articles for other sites that post your articles. Offer real quality and value in your articles and try to avoid material that is too generic in nature and that looks too obviously like "re-worked" material. Make it unique, interesting, beneficial.
My final recommendation for today is to do some advertising, both free and paid. Many marketers work at posting new ads every day, or several times a week at least. Advertising can expand your reach to targeted prospects that you may not be able to reach through other means.
Affiliate Marketing online is very challenging and not every aspiring entrepreneur is going to succeed. But if you are determined and focused, and if you are willing to work hard and be consistent with your efforts, you stand a chance to excel where others do not. You can do it!
~ ~ ~
* You might also enjoy these Affiliate Marketing posts:
~ Focus on Your Internet Affiliate Home Business
~ Make Money Online Selling Items from this Store
~ What To Do When The Affiliate Honeymoon Is Over
~ ~ ~

~ ~ ~
Tagged with: affiliate marketing online • Home Business
Filed under: Affiliate Marketing
Like this post? Subscribe to my RSS feed and get loads more!