Earn While You Learn With SFI
Thursday, January 17th, 2013 at 9:30 pm
GT Bulmer © Affiliate Power Central | GT @ Google+
I try to recommend helpful home business resources and inspirational ideas for personal development on my website. I also watch for Internet income opportunities where you can earn while you learn about Affiliate Marketing.
You will see me frequently recommending the SFI Marketing Group opportunity because I believe it has everything the aspiring home-based entrepreneur needs to learn the business, do the business and become financially successful with the business.
Some places online, you might read ads or promotional messages that try to tell you that Internet Marketing is easy, that with very little effort you will be successful. Well, it's just not that simple. You might as well know right now that there is a lot to learn in this business and it takes time, effort and dedication. …
If you are fortunate, you will find a source that provides you with the training, the marketing resources and the support you need to help build your business and accelerate your success.
That is one of the things that I very much appreciate about the SFI opportunity: the company provides a ton of free training and plenty of incentives to stay focused on building the business. And that includes incentives both for you, to keep you focused and motivated, and incentives for your sponsor and upline team leaders to keep them interested and motivated to help and guide you.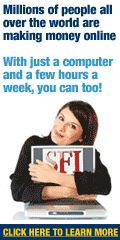 SFI training is available to you 24 hours a day, every day, and it is free. There is no cost or obligation to join the marketing program or to access the training and marketing resources, and there is never any obligation to make purchases.
Here is an overview of some of the various training modules and sections that will help you to earn while you learn as an SFI marketing affiliate:
SFI Basics: The four things you need to do to succeed in SFI spelled out clearly and directly so you know exactly how to get started, stay focused and build your business.
Ultra-simple 3-Step Plan: If the above four steps are too many (lol), then this 3-Step Plan simplifies the process even further!
LaunchPad Training: 30 short modules designed to take you through 30 days of "Getting Started" training. LaunchPad will give you great information, training and inspiration to get you going in the right direction for SFI success.
Training Tab: The SFI Affiliate Center includes a whole range of pages to cover everything from training to marketing to understanding how the compensation plan works. The Training Tab lists 16 separate sections that cover a variety of topics, including how to sponsor new affiliates and duplicate your efforts; how to generate product sales; how to create a residual ECA (E-Commerce Associates) income stream; and much more.
Even more information can be found in the Reference section, the Power Tools page, the Leader Boards, the Support sections, the 'Your Reports' section, and many others.
SFI is a well planned, well organized and professionally run company. The SFI Internet income opportunity is unique and effective, as long as you follow the training, have clear income goals and can stay focused and dedicated to them.
You will not get rich overnight, and you will have to market and promote your business using the recommended methods. But you will also be able to earn while you learn and the Internet Marketing education that you get, free, is well worth it. Sign up now as an SFI marketing affiliate and take an up close and personal look inside the Affiliate Center.
~ ~ ~
* You might also enjoy these Home Business Resources posts:
~ Looking For Free Ways to Make Money Online in 2013?
~ Start a Successful Home Business Today
~ Featured Internet Marketing Resources From TripleClicks
~ ~ ~
~ ~ ~
Tagged with: earn while you learn • real internet income
Filed under: Affiliate Marketing
Like this post? Subscribe to my RSS feed and get loads more!