Five Affiliate Network Marketing Leaders Wanted
Thursday, December 6th, 2012 at 1:05 pm
GT Bulmer © Affiliate Power Central | GT @ Google+
Five Affiliate Network Marketing Leaders Wanted: You can build this business from scratch, or if you already have a team that will follow you into a new opportunity, then bring your best business builders and let's get this party started!
Anybody can do this business, but newcomers to online Network Marketing may have a tougher time getting their businesses rolling. Building a successful and profitable affiliate network takes time, commitment and dedication. You have to do your marketing to recruit new affiliates and then you have to identify the leaders and work with them to get their teams started.
On the other hand, if you are experienced, and especially if you are skilled at recruiting and coaching, you can be in profit almost immediately, certainly your first month, and then you will be increasing and accelerating your income every month thereafter; but only if you have the skills. …
If you don't already have recruiting skills, then it will take longer because you may have to work on developing your marketing skills. That's not a problem because everybody has to start somewhere and if you are just starting to figure out how to make this "Internet Marketing thing" work, then there is no better affiliate network marketing opportunity to get started with.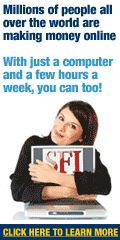 The company is the SFI Marketing Group and their business plan is centered on the TripleClicks (TC) online e-commerce store. Success is based on sales generated at the store through affiliate purchases and retail customer sales.
As a leader, you will set the example that you want the business leaders on your team to follow. This will involve either selling enough TC products or earning enough purchase points to qualify as an Executive Affiliate.
As a leader who wants to earn the highest rewards, you must do this quickly your first month and maintain your status every month afterwards. You will do this to show the business leaders on your team what they must do to duplicate your business-building success.
I've mentioned that I am seeking five leaders. Five is not a required number or a magic number. It is simply a targeted number, because by human nature we achieve more when we have targets to focus on. In reality, you can develop as many business leaders on your marketing team as you want.
But five is a good number to work with when you are coaching your team members and demonstrating to them the income possibilities with the SFI marketing plan. You can earn a full time income by sponsoring five business builders and teaching them to do the same. Duplication is the real key to affiliate network marketing success.
Visit my SFI information page now for more insight into this great opportunity to earn real Internet income. You know that residual income is where your future is. SFI has the plan to make it happen, if you are a business builder or want to learn how to become one.
~ ~ ~
* You might also enjoy these Affiliate Network Marketing posts:
~ What's the Point of Having a Home Business Online?
~ Your Own Online Store Website Instantly
~ How to Make Money Online Free
~ ~ ~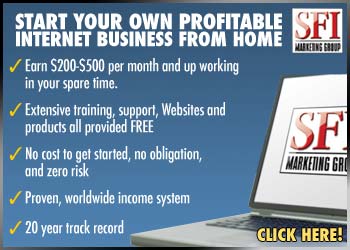 ~ ~ ~
Tagged with: affiliate network marketing • Residual Income
Filed under: Affiliate Marketing
Like this post? Subscribe to my RSS feed and get loads more!