Free Affiliate Marketing Training
Sunday, January 20th, 2013 at 3:41 pm
GT Bulmer © Affiliate Power Central | GT @ Google+
A few days ago I wrote the post titled "Earn While You Learn With SFI." I explained how you could become an affiliate with the SFI Marketing Group and receive free Affiliate Marketing training. Today, I'll highlight some of that training.
One of the things you are encouraged to do when you become an SFI affiliate is go through the LaunchPad training series. LaunchPad is 30 lessons or sessions or days of focused and easy to digest information and insight about Affiliate Marketing and the SFI marketing and compensation plan.
Here is a peek into LaunchPad Day 3, titled "Are You On The Anti-Wealth Plan?" …
Some people call it the "40/40/40 Plan," meaning that you work 40 hours a week for someone for 40 years and retire with $40 in the bank.
The lesson admits that statement to be somewhat of an exaggeration, but points out that "85 out of 100 Americans won't possess as much as $500 in savings by age 65. And only 2% will be self-sustaining; the rest will be dependent on family, church, or the government."
That is alarming! That is why I am working hard to increase my home business income through online marketing, why I am focusing on the SFI Internet income opportunity and why I am persistent in sharing it with my readers and visitors. (You must start today to prepare for tomorrow. True success takes focus, dedication and time.)
LaunchPad lesson #3 explains that with a traditional job, when you stop working, the money stops. You will never be able to acquire wealth working for someone else; that is, by trading hours for money.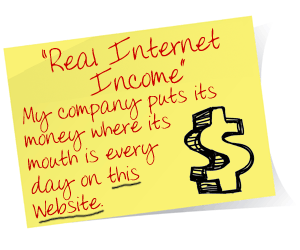 The reality of it is that if you truly want financial freedom, you must learn to create either Residual Income or Leveraged Income.
The free Affiliate Marketing training available from SFI will teach you how to do both.
LaunchPad Day 3 provides the following definitions:
"Residual Income is income that keeps coming in month after month, year after year, from work you do just ONCE. It's like a royalty. An example would be writing a book or recording a song and getting paid forever on it."
Residual income is possible with the SFI marketing plan.
"Leveraged Income is earning money through other people's efforts. There are only 24 hours in a day. Hence, there's only so much you can earn through your own efforts. But with SFI, you can earn Leveraged Income (in the form of "override" commissions) when affiliates you've sponsored in SFI make sales."
The SFI marketing and compensation plan is designed to create both Residual and Leveraged income for those affiliates who go through the training and follow the marketing recommendations.
LaunchPad lesson #3 explains that you can earn "do-it-once, get-paid-forever" residual-style income as well as leveraged income based on the purchases and sales generated by members of your affiliate team. Further training in the LaunchPad series and in other training modules teaches you how to do this. SFI even provides you with the marketing resources you need to make it work.
This has been a brief overview of the Day 3 training. Consider it a tiny sampling of the free Affiliate Marketing training that SFI makes available to every affiliate, 24 hours a day, seven days a week.
Why not sign up now? (It's free and there is never any obligation to purchase anything.) Then you can check out ALL of the training and marketing resources at your leisure.
~ ~ ~
* You might also enjoy these Affiliate Marketing posts:
~ Earn While You Learn With SFI
~ Looking For Free Ways to Make Money Online in 2013?
~ Start a Successful Home Business Today
~ ~ ~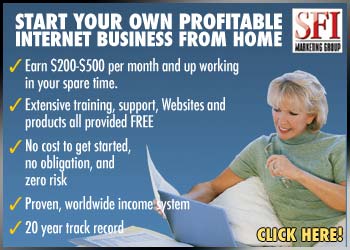 ~ ~ ~
Tagged with: earn while you learn • free affiliate marketing training
Filed under: Affiliate Marketing
Like this post? Subscribe to my RSS feed and get loads more!