Getting Started with the SFI Affiliate Program
Sunday, April 28th, 2013 at 10:06 pm
GT Bulmer © Affiliate Power Central
The SFI affiliate program provides all the training and resources needed for a successful home business and to earn real Internet income. This post will highlight a great training video created by SFI president Gery Carson.
Although the video was produced for the benefit of SFI affiliates, I think it can also serve as an excellent introduction to SFI for anybody interested in Affiliate Marketing and making money online working from home.
The video is titled, Getting Started with SFI. Gery provides an introduction and goes through some of the basics of the marketing plan. He also points members to a simplified step-by-step process for starting and running their business and building the foundation for future financial success. …
Affiliate Marketing doesn't have to be complicated and Gery encourages affiliates to keep it simple. He opens the video by highlighting the ultra-simple three-step plan to SFI success:
1. Become an Executive Affiliate and remain one every month.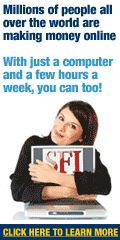 2. Recruit five affiliates using the recommended methods.
3. Teach your five affiliates to do these same three steps.
(Further explanations and resources are provided in the SFI Affiliate Center.)
Gery then points members to the SFI Basics page in the Affiliate Center where the four basics of the SFI affiliate program are more fully explained. The basics are:
1. Versa Points (purpose and value)
2. TripleClicks (e-commerce shopping site for generating retail sales)
3. Sponsoring and Duplication (building your SFI affiliate team)
4. Supplemental Income Streams (additional ways to make money with SFI and TripleClicks)
Watch the video to hear the highlights of each of the basics:
At the end of the video, Gery highlights the links to a few important and highly informative pages in the SFI Affiliate Center:
~ Frequently asked questions about how to get started with SFI
~ Frequently asked questions about commissions and how you get paid
~ The ultra-simple three-step plan
~ Affiliate Support Desk
Towards the close of the video, Gery tells affiliates not to make it more complicated than it has to be: "Just focus on learning and mastering the four actions in SFI Basics," he encourages.
If you are interested in home-based Internet Marketing, then I invite you to watch Gery's video on getting started with the SFI affiliate program and then click on one of the links in this blog post to join my SFI team. There is no time like the present to start building your foundation for financial independence and success!
~ ~ ~
* You might also enjoy these Affiliate Marketing posts:
~ My 5 P's of Affiliate Marketing Success
~ T-Time Savings at TripleClicks
~ Win Free Credits on this Popular Online Auction Site
~ ~ ~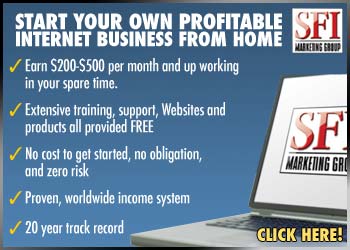 ~ ~ ~
Tagged with: internet income • sfi affiliate program
Filed under: Affiliate Marketing
Like this post? Subscribe to my RSS feed and get loads more!