Help Sell This NASCAR Ford F-Series Race Truck
Sunday, November 3rd, 2013 at 7:52 pm
GT Bulmer © Affiliate Power Central
Can you help sell this NASCAR Ford F-Series race truck? It would mean a referral commission of $438.53 for you. All you have to do is share a website link with prospective buyers. When someone buys the truck, you're in the money!
I will include a photo of the truck here, along with a few details about it, but for the full details, check out the listing for the truck on TripleClicks.com.
Imagine earning hundreds of dollars of referral commissions simply by referring people to products they may already be interested in and are probably searching for. This NASCAR Ford F-Series race truck is just one of more than 100,000 products and services available for you to sell and earn commissions on. …
Who would ever have thought of selling vehicles online? But in today's electronically connected world, countless vehicles of all types are being sold online every day. In fact, I have a family member who has sold several vehicles by advertising them online and finding buyers from far outside of our little community.
The NASCAR Ford F-Series race truck that I am highlighting today is being sold by one of the vendors on the TripleClicks.com e-commerce shopping site. I am not related to this vendor. I just thought that the NASCAR truck would be a unique thing to blog about!
By the way, if you are interested in it (or know somebody who is) you had better act fast because there is only ONE available and it will go to the first qualified buyer.
Here are a few details about the truck:
Year: 2001
Price: $9,995.00 US
Engine: V-8, Full Drive Train
Notes: Best to be used as a show truck or local racing series truck, but could be updated to race again. Local pick-up or buyer schedules shipping.
If you want to get the promotional link to sell this truck and earn a direct commission for doing so, here is what to do:
1. Join my SFI Marketing Team as an affiliate. It is free and there are no purchase requirements or obligations.
2. Use your SFI login details to sign in to TripleClicks.com and navigate to the listing for the NASCAR truck. You will find this and many other vehicle-related items under the Tools and Automotives category.
3. Once you are at the page for the NASCAR truck, click the tab for "SFI Affiliates" and there you will find the promotional link for the item, already embedded with your SFI affiliate ID.
4. Share your affiliate link with people who may be interested in this truck. Share it on social sites where it is appropriate and where you have permission to do so. Advertise it, blog about it and generally post it wherever you can.
5. When a qualified buyer buys the truck and the payment is confirmed through TripleClicks, you will be credited for the sales commission as the referrer. How great is that?
You can follow this same process with any of the more than 100,000 products and services now available at TripleClicks. Promote an item (like the truck). Promote a category (like Tools and Automotives). Or promote the TripleClicks site as a whole. It's entirely your choice how you choose to do it.
Full training and marketing resources are available in the SFI Affiliate Center, once you are signed in as a member.
Any other questions about it? Please feel welcome to contact me.
Now, get out there and tell people about this NASCAR Race Truck! There's money to be made selling vehicles (and thousands of other items) online!
~ ~ ~
* You might also enjoy these Affiliate Marketing posts:
~ Shopping Online for Toys, Kids and Baby Items
~ Two Ways to Accelerate Your SFI Business, Part Two
~ Pricebenders Penny Auction Pays Me to Participate
~ ~ ~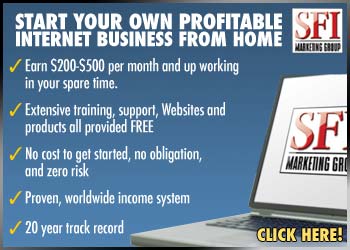 ~ ~ ~
Tagged with: affiliate income • make money online • referral commission
Filed under: Affiliate Marketing
Like this post? Subscribe to my RSS feed and get loads more!