How to Start Earning Real Affiliate Income Today
Monday, February 3rd, 2014 at 11:26 am
GT Bulmer © Affiliate Power Central
I have been told that I am sometimes "too honest" and I suppose that could be true when I am up front about the challenges of online marketing. But really, it's not hard to make money online and seriously, you CAN start earning real affiliate income today.
Here is the so-called "secret" to Internet success: First, invest a little money in your business; second, devote some time to it every day; third, stay focused and stick with it until you are making more money from it than you are spending.
The problem most people have is sticking with it until their investment of time and money starts to pay off… But wait. I digress. This post is supposed to be telling you how to start making money TODAY. …
You might be able to do something like this with other opportunities, too, but my focus is on the affiliate income opportunity with the SFI Marketing Group, so that is what I will be talking about here.
You can join SFI today (free, with no purchase requirements) and literally start earning income in a variety of ways. Not only that, but as a member you can access daily (in some cases, hourly) reports that tell you what's making you money and how much.
First of all, you get rewarded simply for reviewing certain training sections and visiting other key areas in the Affiliate Center each day.
SFI lets you earn points (called VersaPoints) for doing various actions; from reviewing training, to clicking on some of the daily sections, to making sales of any of the more than 100,000 products and services on our e-commerce shopping site, to supporting affiliates you have sponsored into the business, to a variety of other activities.
The most awesome thing about the points system is that everything you do to earn points ALSO helps you build your SFI business in some way!
Not only that, but once you accumulate 1,500 or more VersaPoints (VP) in a month, you qualify to receive a share of the Executive Pool. This is not much money in the beginning, but if you are good (or get good) at generating lots of sales from the store, and/or if you are good at recruiting new affiliates into the business who actively do the business, then your share of the Executive Pool can become quite substantial.
So, VP is one way that you can start earning real affiliate income with SFI within minutes after joining.
The other way that you can start making money almost instantly is through sales from our affiliate shopping site, TripleClicks.com, as I have already mentioned.
As soon as you become an SFI affiliate, you get immediate access to all of the training and marketing resources. Within minutes, you can be promoting TripleClicks, or individual items from the TripleClicks store, and every time you make a sale, you earn VP and a sales commission!
You can check the reports section of your SFI Affiliate Center any time of the day or night to see if you have made any sales and if so, what commission you earned on the sale.
In the report sections, you can see direct commissions from your customer purchases; commissions from purchases made by SFI affiliates you have sponsored into the business; Executive Pool commissions, plus other details.
So, to review:
1) You can start accumulating VersaPoints immediately and these points will help you qualify to earn monthly Executive Pool bonuses;
2) You can earn direct sales commissions the moment you start making sales to personally referred customers;
3) You can earn direct sales commissions from purchases made by SFI affiliates you personally sponsor into the business.
There are other ways to make money with SFI (and to benefit from the points system), but the methods explained in this post are the most immediate ways you can start earning real affiliate income TODAY. Care to take a look? Go for it! Click here for more information about the SFI Marketing Group.
~ ~ ~
* You might also enjoy these Affiliate Income posts:
~ Keep Your Job If Affiliate Success Frightens You
~ How Affiliate Marketing Works
~ Create a Website TODAY With These Handy Resources
~ ~ ~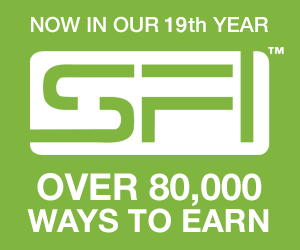 ~ ~ ~
Tagged with: affiliate income • grow a second income
Filed under: Affiliate Marketing
Like this post? Subscribe to my RSS feed and get loads more!