In Search of Affiliate Income Success
Tuesday, May 28th, 2013 at 10:55 am
GT Bulmer © Affiliate Power Central
Wow! This past month has been intense with offline writing client projects! The good news will come when the money's in the bank. The bad news is that the time commitment has really cut into my affiliate income activities.
I shouldn't complain, though, because getting paid for writing, something I enjoy doing, had always been a dream of mine.
The trouble is, dreams change over time and as much as I like writing and getting paid for it, my new dream has been to create a certain level of monthly income from my Affiliate Marketing activities. …
How did I get to this point of busyness between my writing and my marketing? Let me share a bit of how my dreams have progressed over the years.
My writing dreams and my home business income dreams have always run parallel to each other. In both cases, I was always too busy working at a non-related day job and earning a living to support my family to allow time to pursue my personal dreams.
Then one day about 15 years ago, before my writing career began, I saw an opportunity to write a few articles for our local newspaper. My basic dream was to write and get published somewhere. Getting paid for it wasn't really a concern.
Those few articles turned into a weekly column that lasted several years. Problem was, I wasn't getting paid. So, my dream changed to include getting paid for writing!
Not long afterwards, I was offered a full time position with the newspaper. Awesome! I was writing – a lot! – AND getting paid for it! Not only that, but I also became the editor for the publication.
However, after a few years, I was burning out from a demanding schedule and needed a change. A few weeks after I resigned from that job, I was approached by a local corporate body to do some writing work for them. I am now in my eighth year with that client. Also, that connection led to writing projects with other local corporate clients.
What does this story have to do with my dream of affiliate income success?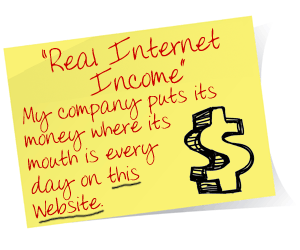 Well, it can serve as an example of the progression of success that can be applied to Affiliate Marketing:
1. You need to have a dream, something exciting and fulfilling to motivate you. Like my dream of writing.
2. Your dream needs to be clear. I discovered that "writing" wasn't clear enough so it changed to "writing for pay".
3. Before you get paid for doing what you like doing, you must first learn how to do it and then practice, practice, practice until you get good enough to deserve pay for it. (Affiliate Marketing is like that, too.)
4. You need to identify what you like best about it and what to focus on. For me, there are certain types of writing tasks that I enjoy more than others. I have turned down projects that I knew I would not enjoy. Marketing is like that, too. It's your business. You make the decisions.
5. If you want to be happy, you must be flexible with your dreams and equally flexible with the methods you use to achieve them. It is okay to modify your dreams along the way and it is definitely okay to test different methods.
Finally, you have to realize it is going to take time, focus, dedication, determination, commitment and effort.
My problem is that I want to do more, faster, to accelerate my affiliate success, but my writing career keeps getting in the way! Like this past month.
I'm not complaining. I enjoy writing and it pays well. I am just anxious to see my affiliate income grow, too. The good thing is, I am making progress.
What do YOU want in life? Are you excited about the income potential of Internet Marketing? If so, set some clear goals, make some plans for personal development, learn and apply the recommended marketing methods, and practice, practice, practice until you reach the level of monthly income that you desire and deserve.
~ ~ ~
* You might also enjoy these Affiliate Income posts:
~ Getting Started with the SFI Affiliate Program
~ E-Commerce Portal Perfect for Small Business
~ How to Be a Better Salesperson
~ ~ ~
~ ~ ~
Tagged with: affiliate income • home business income
Filed under: Affiliate Marketing
Like this post? Subscribe to my RSS feed and get loads more!