New Website Landing Page for my Affiliate Business
Saturday, March 9th, 2013 at 10:48 pm
GT Bulmer © Affiliate Power Central
It is fairly standard practice to use a website landing page to introduce a product, service or Affiliate Marketing program: many online businesses use them. Later in this post I'll tell you about MY newest affiliate page.
Landing pages are sometimes called "lead capture pages." They are the pages that you "land" on after clicking an advertisement or link somewhere on the Internet that promises more information on the subject you have been reading about.
In some cases, the page is nothing more than a reference page providing additional information as promised. However, in many cases, the purpose of the page is to encourage visitors to submit their contact information so the marketer can follow up with more information at a later time. …
While the use of such pages is common, the design elements and presentation style can vary considerably, depending on the purpose for the page. There is no standard format, other than a couple of basic elements that you are likely to find on almost every website landing page.
For example, if the purpose of the page is to "capture" your contact details or to invite you to sign up for a newsletter, then you will find a form that asks for your name and email address. In some instances you may be asked to create a password, if the page leads to a membership site.
When the page leads to a membership site, that purpose is usually fairly
evident. You will typically know that is what you are signing up for before you enter your contact details. Once you are registered as a member and have signed on to the site, you will have access to the information and resources noted on the landing page.
Some pages may be collecting contact details only for the purpose of building a mailing list.
Other pages want your details for a dual purpose: first, to get you on their mailing list; second, to move you to the next stage of their sales funnel, which will likely be a web page with a more dynamic and aggressive sales pitch.
Basically, a landing page is the marketer's attempt to get your willing permission to accept additional information from them. It is a much more respectable process than sending unsolicited emails to unsuspecting prospects.
Also, from a marketer's point of view, it is a more efficient way to pre-qualify your prospects. You know that the people who take time to submit their contact details are going to have a more serious interest in what you are offering than cold prospects would have.
It is not critical to use a landing page for your Internet business, but it makes sense to do so, especially if you are involved in Affiliate Marketing, as I am.
My Internet income program of choice is with the SFI marketing group. Last week, SFI introduced a brand new landing page that I think is great! Not that there was anything lacking in any of the existing resources.
SFI is a leading affiliate company and their professionalism is evident in the quality of the marketing and training resources they make available to their affiliate members.
The new website landing page, now available for our use, is simple, direct and appealing. The theme is stated right at the top of the page:
"Grow a second income with the Internet's #1 affiliate program."
The page makes it easy to understand what it's all about and what to do next. It includes some impressive statistics about the company and a number of comments posted by SFI affiliates.
I believe it is a perfect example of how to structure an effective website landing page. Please accept my invitation to check it out now. In fact, take it a step further and while you are there, sign up for SFI to see what it looks like on the inside. It's free to join and there is never any purchase obligation.
~ ~ ~

* You might also enjoy these Affiliate Business posts:

~ 3 Keys to Affiliate Income Part 3

~ Website Tips for Affiliate Marketers

~ ~ ~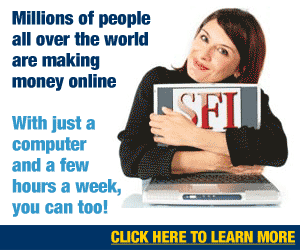 ~ ~ ~
Tagged with: Internet Marketing • website landing page
Filed under: Affiliate Marketing
Like this post? Subscribe to my RSS feed and get loads more!