Recognition Badges for Affiliate Achievement
Tuesday, December 3rd, 2013 at 3:27 pm
GT Bulmer © Affiliate Power Central
Here is something I think is really "cool" about the affiliate company that I am a member of. You can earn a wide assortment of recognition badges for various achievements in the training program and in the marketing plan.
The company is the SFI Marketing Group. First, the badges are designed to encourage you to follow through with the various training modules, available free to members.
Second, they are designed to inspire and motivate you to apply recommended marketing methods and practices – things every affiliate should be doing anyway. …
SFI is free to join and you do not have to make any purchases ever, if you don't want to. The income you earn, along with a variety of other rewards, is performance-based. In other words, when you do the things you need to do to enhance or accelerate your success, you can earn rewards.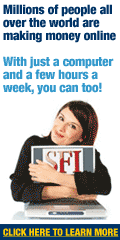 The recognition badges are visual milestones marking your achievements. Not every affiliate cares for the badges. Some affiliates are focused on the marketing plan and could care less for the reward badges.
The badges, they say, do not earn you any money. It is product sales and group activity volume that earn you money.
They are right, of course, but I know from years of experience and observation in the work place and in various marketing opportunities that there are some people who respond very well to rewards and incentives like the SFI achievement badges.
Personally, I think the badges add a fun element to both the training process and the marketing processes. In fact, I know the badges hold a lot of meaning and value to some members. They show that the member is making progress in their training and advancing in their marketing efforts. It gives the person a sense of pride.
Some affiliates also see the badges as a status symbol: the badges mark you as an achiever and a leader and the more of them you accumulate, the greater your image becomes as a successful affiliate.
Currently, there are 24 different categories of badges you can earn. Some categories have multiple badges that you earn in progression as you reach each level in that category.
As I write this, I have 19 badges showing on my home page in the SFI Affiliate Center. Still a few more to work towards! Some of those will be very, very challenging!
Here are a few of my current badges:







The first five badges in the list change as I reach new levels. The last two don't change. They are earned when you make that achievement and they stay the same.
For me, the badges are a nice form of recognition and a demonstration of my progress in the program so far. I think they are fun and I definitely appreciate receiving them and seeing them displayed on my home page in the SFI Affiliate Center.
You can view the complete list of available badges simply by signing up and becoming a member. There is no cost and never any obligation to make a purchase. A ton of free Internet Marketing training is available to all members, as well as all kinds of marketing support resources. Check it out!
~ ~ ~
* You might also enjoy these Affiliate Marketing posts:
~ Rules of Success for Affiliate Marketing
~ More Website Wisdom for Internet Marketers
~ Apple iPad Air Goes For $2.60 at Auction
~ ~ ~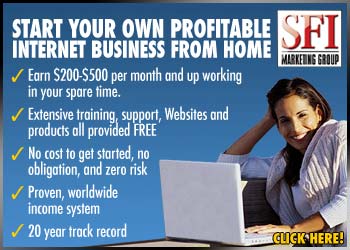 ~ ~ ~
Tagged with: affiliate achievement • Home Business • Internet Marketing
Filed under: Affiliate Marketing
Like this post? Subscribe to my RSS feed and get loads more!