Rules of Success for Affiliate Marketing
Tuesday, January 22nd, 2013 at 9:57 pm
GT Bulmer © Affiliate Power Central | GT @ Google+
Today I will list the 20 Rules of Success as explained by Gery Carson, President of SFI. Gery developed this list with SFI affiliates in mind, but these rules are transferable to any kind of Affiliate Marketing business and many areas of life.
The list I post here will be the titles only. SFI affiliates can access the list inside their Affiliate Center where Gery includes an insightful article with each, complete with explanations and examples. Anybody can access this information simply by becoming an affiliate; there is no cost and there are no purchase obligations.
In his introduction to the 20 rules, Gery says, "We have established our own set of rules for success based on our (SFI) history and the investment of literally millions of dollars and hours by SFI and its affiliates." …
He also explains that the process of success is very simple: "If you want to succeed, you must follow these rules. If you want to risk failure, ignore them."
Here are the 20 SFI Rules of Success, presented by Gery Carson:
1. Treat your business…like a business!
2. DO something to grow your business every day.
3. Lead by example.
4. Work with the workers.
5. Treat TripleClicks as YOUR store.
6. YOU succeed only if THEY succeed.
7. YOU make it happen, no one else.
8. Leaders are readers.
9. Open your eyes to your potential.
10. Set goals…and publish them!
11. Have a plan (a realistic plan).
12. Winning starts with beginning.

13. Focus.
14. Send praise down (and criticism up).
15. Don't quit.
16. Think BIG.
17. Don't major in minors.
18. Don't be a negative thinker.
19. Some will, some won't. So what? Someone's waiting! Next!
20. Persist until you win.
As I mentioned earlier, Gery provides additional insight for each and every one of these rules. You will be inspired!
To access this information – and ALL of SFI's comprehensive training and marketing resources – just sign up as an SFI affiliate (remember, it's completely free and there are no purchase obligations). Once logged in to the SFI Affiliate Center, look under the Training tab for the Rules of Success link.
Use these 20 Rules of Success to succeed with SFI, or apply them to your other Affiliate Marketing activities. Either way, you are sure to improve your chances for success!
~ ~ ~
* You might also enjoy these Affiliate Marketing posts:
~ Free Affiliate Marketing Training
~ Earn While You Learn With SFI
~ Social Marketing Strategies for Facebook and Twitter
~ ~ ~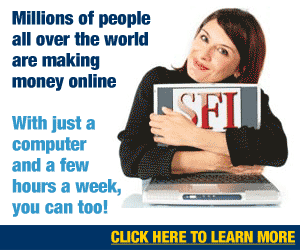 ~ ~ ~
Tagged with: free affiliate marketing training • rules of success
Filed under: Affiliate Marketing
Like this post? Subscribe to my RSS feed and get loads more!