Get Quality Backlinks to Show Your Influence
Friday, March 29th, 2013 at 10:03 am
GT Bulmer © Affiliate Power Central
Despite the impact of search engine updates, link building is still important for websites. The difference now is, instead of going for lots of links of questionable quality, you need to get quality backlinks to show your influence.
Today, the way to woo those wily search engines is to demonstrate your influence and authority in your market niche. Of course, one leading way to do that is to frequently post fresh, unique content, especially content that people want to share with others.
You must also get links back from quality websites with content that is highly relevant to your marketing niche. This, again, comes down to posting high quality content on your site that attracts the interest of other website owners and motivates them to want to link to you. …
It's great when other websites link to yours automatically, but you can increase your results by actively approaching sites where you would like to get quality backlinks.
Here are some ideas of the kinds of backlinks that help to show the search engines that your website is important:
~ Links from high authority sites. You might have some work to do to get links from these sites, but it is something to aim for.
~ Links from websites that are related to your market niche or marketing theme.
~ Links from web pages with content that is related to your website niche. These could be pages on websites that are not related to your niche, like a newspaper site, but the particular page covers a topic related to your site.
~ Links that point to your site as being authoritative, for example, backlinks with anchor text that says something like, "Get more information here," or "Click here for more information."
~ Links from guest posts you write on other websites and blogs. The important thing is that the content of your guest post is related to your website or to the page on your site that the guest post links to. Be very cautious about posting the same guest post on numerous sites. Typically, when you write a guest post it is exclusive to the site unless you have some sort of syndication agreement with several sites.
~ Links from business directories, particularly high profile directories. Your main purpose for directory links is to get website traffic and when you get traffic in this way, the search engines take notice of it.
~ Links from business partners. Similar to directories, the purpose is to get more traffic, and when a site sends you targeted traffic, the search engines see it as a vote of approval and an indicator of your site's influence.
In fact, most links that deliver visitors to your website are good links. If you make it a priority to seek the best link sources for getting traffic, then you will surely win the favour of the search engines and will vastly improve the potential of your website to place well in the search engine results.
Search engines will reward you if you can demonstrate your influence and authority. The way to do this effectively is to make sure that you get quality backlinks.
~ ~ ~
* You might also enjoy these Internet Home Business posts:
~ Home Business Resources for Internet Entrepreneurs
~ Planning a Professional Affiliate Marketing Website
~ Plan Ahead for Affiliate Marketing Success
~ ~ ~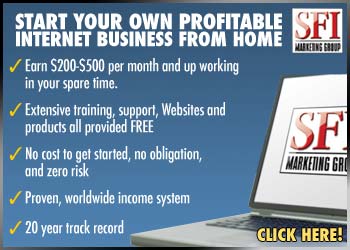 ~ ~ ~
Tagged with: Building Backlinks • getting backlinks
Filed under: Building Backlinks
Like this post? Subscribe to my RSS feed and get loads more!