Advanced Marketing Opportunity for Go-Getters
Monday, January 28th, 2013 at 11:22 pm
GT Bulmer © Affiliate Power Central | GT @ Google+
Here is an advanced marketing opportunity for experienced OR enthusiastic go-getters willing to do a little footwork to put themselves in a position to earn royalties for life. As a marketer, you've got to see the enormous potential in this.
The process is simple: you contact businesses who want to sell their products online; you introduce them to our E-Commerce Associates program; they sign up (free), upload their products to our online e-commerce shopping site and whenever THEY sell something, YOU earn a royalty!
Also, if you want a bigger piece of the pie, you can promote any products they have listed in the store and when you sell something on their behalf, you get both a sales commission AND the royalty mentioned above. How great is that? …
You don't have to promote or sell their products; that's just an additional option. It is totally your choice.
The income potential with the royalty plan alone is enormous. The businesses you refer can be anywhere in the world. They can even be businesses local to your own community. They can be any business that has products that can be sold online and shipped to the customer.
Most small businesses owners would love to start selling online, but either they don't know how to do it, or they don't have time to invest in a website and a complete e-commerce marketing process.
Our E-Commerce Associates (ECA) program makes it simple for them to get online fast, and simple for YOU to be the referring affiliate who earns royalties for life for connecting them to our proven, popular e-commerce site and marketing system.
Here's what to do:
1) Sign up now as an SFI Marketing Group affiliate (there is no cost and no purchase obligation).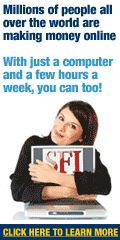 2) The ECA program is just one of several ways to earn income with SFI, but let's stay focused here on the ECA! Step two, once you are an SFI affiliate, is to review the ECA information and marketing training found inside your SFI Affiliate Center.
3) Decide which of the several marketing methods you want to use to contact potential businesses with the ECA invitation.
4) Choose some of the SFI marketing resources to use when approaching businesses.
5) Make your prospect list of prime businesses to approach with the invitation.
6) Begin approaching them.
7) Follow up with the ones you have contacted to see if they need more info, have any questions or want some help or guidance understanding how the process works. (It's pretty simple, really, and once they are signed up as an ECA, they will have full access to the directions, guidelines, FAQ, etc.)
That's it! Once your referred ECA lists and begins selling products via the e-commerce store, you will begin to earn royalties. And you will keep earning them from sales made by that ECA for as long as they keep selling and as long as you remain an SFI member in good standing.
Here are a few links for more information:

~ E-Commerce Associates info page
~ SFI Marketing Group affiliate info
~ TripleClicks E-Commerce shopping site (nearly 65,000 products and services and more than 1.5 million members … and growing!)
I call this an 'advanced marketing opportunity' but really, it is quite simple: introduce businesses to the ECA program; earn royalties when products they list sell.
The challenge is having the courage to contact prospective ECAs and the professionalism to follow up with them after the first contact and be available afterwards if they have any questions. But don't worry. You will have the professional backing of SFI and TripleClicks, and I will be available to offer you help and support as well.
Consider the potential for long-term income and royalties for life. Join me now in SFI and check out the ECA info in your SFI Affiliate Center.
~ ~ ~

* You might also enjoy these Home Business posts:

~ Royalties for Life, Referring E-Commerce Businesses

~ Rules of Success for Affiliate Marketing

~ Home Business Success Strategies Revealed

~ ~ ~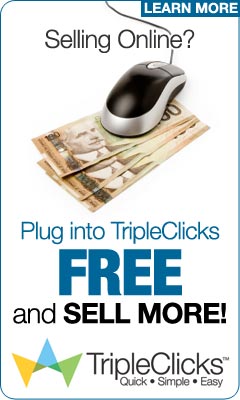 ~ ~ ~
Tagged with: advanced marketing • e-commerce businesses
Filed under: E-Commerce
Like this post? Subscribe to my RSS feed and get loads more!