Reach Millions With Your Own E-Commerce Store
Saturday, October 20th, 2012 at 9:31 pm
GT Bulmer © Affiliate Power Central | GT @ Google+
When you become an E-Commerce Associate with this program, you can instantly go global, reach millions of shoppers with your own e-commerce store and sell your products in more than 190 countries worldwide.
This program is perfect for small and medium businesses that understand the potential of the Internet and want to get set up fast with their own customized e-commerce website.
There are no listing fees and no risks. All you do is sign up, upload your product information and let this marketing network of more than 100,000 affiliates do the promoting and selling for you. The service provider retains a small fee only when you make a sale. …
The E-Commerce Associate program is provided by TripleClicks, one of the fastest growing, international e-commerce sites on the Internet. The service provides a variety of payment options for your customers, as well as wish lists, gift registries and more.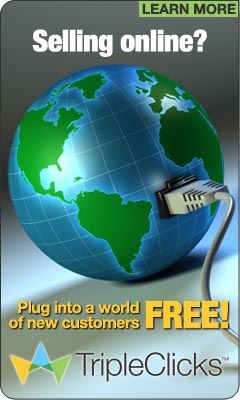 When your customers buy products from your TripleClicks e-commerce store, the system automatically sends you the orders to fill. You ship the orders and, on approval, the appropriate payment is transferred to you. Simple and secure for all involved!
Your products will be marketed alongside existing TripleClicks products as well as from your own separate online store (TConnect website, provided free). Shoppers place their product choices in their TripleClicks shopping cart and check out when they are ready. TripleClicks takes care of the payment processing on your behalf and sends the order to you for fulfillment.
The E-Commerce Associate program is designed for commercial sellers who can verify their business with the appropriate documentation.
Interested parties who are not commercial sellers can list items for sale at TripleClicks through the Member Listings Program. Nobody gets left out of this great opportunity to take advantage of the e-commerce potential of Internet Marketing.
Sellers set the prices for their listed products and are free to adjust the prices, or any other product details, whenever the need arises. Products can also be designated as active or inactive and the setting change is immediate across the TripleClicks network.
TripleClicks is a professionally designed, professionally operated, secure e-commerce shopping website. It is the perfect solution for small and medium businesses that want to get their products online quickly and economically and who seek an existing network of Internet Marketers to help promote and sell their products.
Visit the E-Commerce Associate Program information page right now to get more information and to sign up free. It is the ideal way to reach millions of interested customers with your own e-commerce store.
~ ~ ~
* You might also enjoy these Internet Business posts:
~ Buy and Sell Online With TripleClicks
~ Why SFI is the Best Home Based Internet Business for You
~ Training For A Successful Internet Business
~ ~ ~
~ ~ ~
Tagged with: e-commerce store • tripleclicks
Filed under: E-Commerce
Like this post? Subscribe to my RSS feed and get loads more!