Steps to Start Your Internet Home Business
Wednesday, April 2nd, 2014 at 3:26 pm
GT Bulmer © Affiliate Power Central
Not everybody is interested in starting an Internet home business. Not everybody is cut out for it. What it takes is a unique individual with a clear interest in marketing and sales and a sincere initiative in pursuing that interest.
Anyone with any amount of experience working online already knows how to go about getting set up with a website, finding products, services or programs to promote as well as effective ways to advertise and market them.
This blog post is for the absolute beginner who is looking for a step-by-step process to get set up for business and begin marketing their home business online. …
The following steps are very basic, but they will point you in the right direction and get you started. Here goes!
1. Your Own Website
You don't have to have your own website to market online, but if you plan on building a serious business with serious income, then getting your own website is a smart thing to do. It is the professional thing to do!
It all comes down to building your presence online and creating brand recognition for you as a professional marketer and for the products or services you plan to sell.
There are three parts to getting a website set up:
a. Choosing a name for your website: It is best to keep your website name as short and easy for people to remember as possible. It is also advisable to choose a name that clearly and effectively tells people at a glance what the site is all about. If you are planning on branding yourself as a professional marketer, then you may consider using your own name as your website name, for example, yourname.com.
b. Website Hosting: Once you've picked a great name, you need to register it as a domain and you need to find a website hosting provider. You can find places that specialize in domain registration, or you can do like I have done and first choose a web hosting service and then use their services to register your domain. I recommend Bluehost as a reputable and dependable hosting provider. Bluehost offers a free domain name as part of the hosting package.
c. Setting up a Professional Website: You can find low cost places online that show you how to set up a website, or that provide you with the necessary tools. You might even find places that offer free websites, but be careful about all of that because there is usually a catch and that catch usually means that what you can do with "your" website is limited. Bluehost offers a free site builder, but I haven't tried it so I can't comment on its value or flexibility for marketing purposes.
My website is a WordPress site and I am very happy with the features and flexibility it allows for non-technical people like me! This site is a few years old and I admit that I did not build it. It was created for me.
Today, here is what I recommend to new home business marketers online: Consider investing in the WordPress Crash Course training program. The cost is $47, but it is complete and takes you through all of the steps for setting up a WordPress website. You can click to visit the Crash Course information page to get all of the details for yourself. Watch the 3-minute video – it explains everything!
2. Products and Services to Promote on your New Website
Over time, as you get more experience marketing online, your interests and focus may change as to what you want to sell. In the beginning, it is best to go with something that is tried and true, just so you can get some experience and begin feeling your way around.
Affiliate Marketing is a popular way to market online. This just means that you become an affiliate (independent marketer, or independent representative) for a company that has products and/or services to sell. Affiliates do the advertising and promoting, while the company handles order processing, shipping, etc.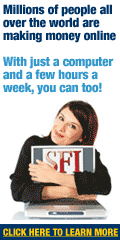 I recommend that you become an affiliate for the SFI Marketing Group, a leader in Affiliate Marketing. Not only will you be able to tap into their online store featuring more than 100,000 products and services that you can promote to earn direct commissions, but SFI is free to join, there are no purchase requirements AND they offer some of the best FREE Internet Marketing training resources that I have seen online.
Once you have signed up to be an SFI affiliate and you have access to the SFI Affiliate Center, you will be able to find many marketing resources, including banner ads of all kinds and sizes that you can post on your new marketing website (like I do here). Then, you apply recommended ways to advertise and promote your site to get targeted traffic. Traffic is the key to online success.
That is my two-step plan for starting your own Internet home business: First, set up your own website; Second, choose products and/or services to promote, and then post ads, articles and other content on your site to promote those items.
It all starts with your own website, so go back to Step 1, parts a, b and c, and follow that process to get started. Online marketing success awaits you. Go for it! You can do it!
~ ~ ~
* You might also enjoy these Internet Home Business posts:
~ You Can Begin Earning Affiliate Income Here
~ Professional Web Hosting Above and Beyond
~ Build Your Own Affiliate Marketing Website
~ ~ ~
~ ~ ~
Tagged with: Bluehost web hosting • internet home business • resources
Filed under: Home Business
Like this post? Subscribe to my RSS feed and get loads more!