Why SFI is the Best Home Based Internet Business for You
Tuesday, October 9th, 2012 at 10:44 am
GT Bulmer © Affiliate Power Central | GT @ Google+
Most home based Internet business enthusiasts know what they want in an online opportunity and most go through a process of trial and error before they find the right one. This post will tell you why SFI is the best business for you.
First of all, the SFI Marketing Group has invested a lot of time and money into finding the best mix of marketing plan, affiliate compensation, product and service line-up and online e-commerce shopping website.
On top of that, the affiliate training and support system is second to none. You earn rewards for going through the training and for dedicating yourself to daily activity focused on building your business and your online income. …
Next, there are a variety of ways to make money online with your SFI home based Internet business. You can apply some or all of them as you wish. It's your choice and you can build each aspect of your business at your own pace.
You can promote the e-commerce shopping site and earn direct commissions on the sale of products and services. You can also list your own products and services and have them sold through the site. You can sponsor new SFI affiliates and earn commissions on items they purchase, plus earn other benefits based on their activities. You can introduce the site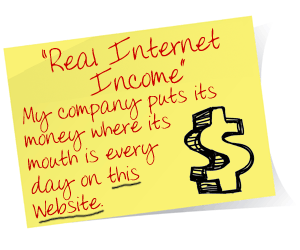 to commercial retailers and earn benefits when their products sell.
Everything you do to promote and build your SFI business is aimed at producing and increasing your monthly income. If you are like many home business affiliates, your income will start out small, but it will increase month by month as you apply yourself to the recommended SFI marketing methods and principles of success.
Compare SFI to other Business Opportunities
When you become an SFI affiliate and have access to your Affiliate Center and the training materials, you will find a page that compares SFI to other opportunities. The page lists nearly 30 specific areas where SFI meets or beats other opportunities such as Network Marketing or MLM; traditional affiliate programs; Franchises; and Direct Sales.
Here are a few select items from the list that truly stand out to me:
~ Can participate FREE for as long as you want, with no obligation
~ Company handles all orders, payment, shipping details and customer service
~ Marketable in every country worldwide
~ You can share in company-wide sales/commissions every month
~ You can earn ongoing, residual income from one-time sales
~ You can qualify to earn unlimited override commissions on multiple levels
~ Built from the ground up FOR the Internet
~ Can market virtually any product or service
~ Pays out over 60% of revenues back in commissions
~ Extensive marketing tools so you can market how you like, online or off
Those are just some of the ways that the SFI Marketing Group meets or beats other home based Internet business opportunities. It costs nothing to join SFI and once registered as an affiliate, you will have complete access to all of the training materials, marketing aids and more.
In my personal opinion, SFI is exactly the type of premier opportunity that every Internet Marketer is searching for. The more you understand how the marketing plan is set up and why it can be so rewarding for long-term monthly income, the more exited you will become. Like me.
Visit the site now, sign up as an affiliate and look for the "SFI Basics" page and the "Launchpad" training series to start getting a feel for how simple and powerful this marketing plan is. One more thing: always remember that I am here to help and support you. Teamwork is truly the key with THIS home based Internet business! (Go ahead. Find out for yourself.)
~ ~ ~
* You might also enjoy these Internet Business posts:
~ Residual Income Opportunities Make Dollars and Sense
~ Buy and Sell Online With TripleClicks
~ Training For A Successful Internet Business
~ ~ ~

~ ~ ~
Tagged with: Home Based Internet Business • Residual Income
Filed under: Home Business
Like this post? Subscribe to my RSS feed and get loads more!