A Little Information About Internet Marketing
Wednesday, November 28th, 2012 at 12:06 am
GT Bulmer © Affiliate Power Central | GT @ Google+
We who have a bit of training and experience marketing online are familiar with the process and tend to forget there are those who do not have the same level of insight that we have. So, here is a little information about Internet Marketing.
This is from my own experience and perspective. I happened upon the field of marketing online when I first "got connected" and began looking into possible freelance writing markets on the Internet.
My research quickly led from one link to another to another until I landed on a promotional page for an Internet income program that used the term, "Affiliate Marketing". Affiliate Marketing turned out to be one type of Internet Marketing. …
Basically, Internet Marketing is the process of promoting and selling products and services over the Internet. Affiliate Marketing is where you become an "affiliate" for a company that has products and/or service to be sold and you do the marketing and promotion to sell them. When you make a sale, you earn a sales commission.
Those are the explanations in simplified form. How you go about Internet Marketing can get very involved.
Most marketers use either their own website as their home base online, or they might use affiliate websites provided by the affiliate company they may be promoting. Some marketers simply use "landing pages" or "lead capture" pages.
A landing page is an information page designed to provide the prospect with enough information to get their interest and motivate them to click a link to sign up for something or buy something or click a link to go to another page to learn more about the topic.
A lead capture page is designed to prompt the visitor to provide their name and email address so the marketer can then follow up with more information to be sent to the prospect. A lead capture page typically does not offer much in the way of information, other than to make the prospect curious, or entice them with a bonus offer so they will willingly give their contact details.
Whether you use a personal website, an affiliate website, a landing page or a lead capture page, your primary object is to use various methods to drive targeted traffic to those sites or pages. To sell something, you need buyers; to create buyers, you need prospective buyers, or prospects; to get prospects, you need to find out where they are on the Internet and then do things in those places to get their attention and encourage them to click a link that will take them to your website or marketing page.
Getting targeted traffic seems to be one of the biggest challenges for most aspiring marketers. There are many free ways to drive traffic to a site, but they all take time to learn and apply. You can also use paid advertising, but that can be a process of trial and error, too, until you find the most suitable places to spend your advertising money.
Most reputable Affiliate Marketing companies provide training and marketing resources for their affiliate marketers.
Well, that is a little bit of information about Internet Marketing. I know it barely scratches the surface, but there you are. Making money online is possible, if you are willing to learn the basics and then diligently apply what you learn. It can be fun as well as rewarding.
~ ~ ~
* You might also enjoy these Internet Marketing posts:
~ Your Own Online Store Website Instantly
~ How to Make Money Online Free
~ Top Three Ways to Earn Real Internet Income
~ ~ ~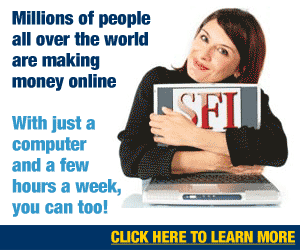 ~ ~ ~
Tagged with: about internet marketing • Home Business • making money online
Filed under: Internet Marketing
Like this post? Subscribe to my RSS feed and get loads more!