Build Your Internet Home Business with SFI in 2014
Friday, December 27th, 2013 at 1:14 pm
GT Bulmer © Affiliate Power Central
My last blog post had nothing to do with Internet Marketing. This post will highlight how to build your Internet home business with the SFI Marketing Group. It is a great way to make money online, if that's what you are interested in.
I have been getting experience with various types of home-based businesses for a number of years and just like many other aspiring entrepreneurs, I have found my way to marketing online.
Not only can you build your business from the comfort of your home, but the Internet also makes it possible to quickly and easily reach many millions of prospects that you could not easily reach otherwise. …
The SFI Marketing Group is a proven leader in Affiliate Marketing on the Internet. The marketing plan is basic, the compensation plan is unique, and the training and support system is well above average.
SFI is free to join and there is no obligation to purchase anything, ever. Of course, there are incentives to make purchases to help advance or accelerate your business, but these are not requirements; you can join free and build your business using only free methods, if that is how you choose to do it.
The SFI Marketing Plan
The marketing plan is basic: you promote any of the various aspects of the plan and you earn income in a variety of ways: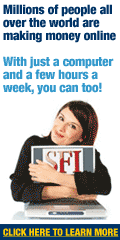 ~ Direct sales commissions by promoting any or all of the commissionable items listed on our e-commerce shopping site;
~ Direct commissions from purchases made by members of your SFI marketing team;
~ Monthly profit-sharing bonuses (called the Executive Pool);
~ TCredit Bonuses (TCredits are equal to cash that can be used in several ways on our shopping site);
~ Royalty income from all sales made by commercial businesses you refer to the shopping site;
~ Pay-Per-Action referral bounties (this is an option that is separate from the above methods of earning Internet income)
Full training is provided for each of the above, but very simply, all you do is apply recommended Internet Marketing methods to attract new customers for the shopping site, or new affiliates for your SFI marketing team, or new commercial businesses for the shopping site (or all of the above! It's your choice.)
The SFI Compensation Plan
The marketing plan is basic, but the SFI compensation plan is unique and not so easily explained in a few words.
As you can see from the above list of ways to make money online with SFI, there are a lot of options and angles involved; each one has its own method of calculating the commissions or bonuses. Everything is outlined in the SFI Affiliate Center, where all SFI affiliates have free access 24-hours a day.
SFI Training and Support
One of the highlights of the SFI Marketing Group is the training and support system, provided free to all SFI affiliates.
I have been involved in a number of Internet opportunities and in my opinion the SFI training and support is more thorough and far superior to that found in most other money-making programs. Join free and you get free access to comprehensive Internet Marketing training resources as well.
The New Year is upon us. Now is the time to plan for success in 2014.
Please consider the benefits and advantages of building your Internet home business with the SFI Marketing Group. We have the marketing and compensation plan and the training and support that can help you achieve the success you seek. Join my SFI team right now and get started today!
~ ~ ~
* You might also enjoy these Internet Home Business posts:
~ Make Money Online Referring Commercial Businesses
~ Hummingbird is the New Google Search Algorithm
~ How to Make 2014 Your Year for Higher Achievement
~ ~ ~

~ ~ ~
Tagged with: internet home business • make money online
Filed under: Internet Marketing
Like this post? Subscribe to my RSS feed and get loads more!