Can You Build A Successful Online Business?
Monday, October 29th, 2012 at 8:30 pm
GT Bulmer © Affiliate Power Central | GT @ Google+
The question really is do you have what it takes to build a successful online business? All the resources are out there. Anybody can do it, but the surprising thing is only a small percentage of people succeed. Can you be one of them?
It's funny about people. Everybody says they want success and achievement, but few are willing to put in the necessary time and effort. And yet, if you follow a few basics and apply yourself in the beginning, your efforts will produce results that will compound with many benefits over time.
I am an active affiliate with the SFI Marketing Group. SFI has a unique marketing and affiliate compensation plan that is designed for Internet Marketing success. That is, if you are able to follow the SFI basics. They are pretty simple, really. …
I will outline the SFI basics in a moment, but first, I need to share something personal with you.
When SFI introduced their current marketing plan a couple of years ago, I did not see the potential of it.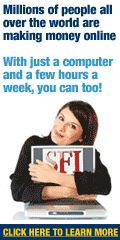 Of course, I was less experienced as a home-based Internet Marketer back then and I was still in the mindset of looking for an "easier" way to make money online. As a result, I was kind of blind to the reality of Internet Marketing and the simplicity of the SFI plan. I certainly was not seeing the big picture at that time.
Well, now here we are, a few years later, and I have more experience and insight into what it takes to build a successful online business. Not surprisingly, now that I have come to understand the basics, it becomes quite obvious that SFI has all of the requisite elements.
First, the program is free to join and you are never required to buy anything.
Second, there are some unique rewards offered to motivate you to go through the training program and review it regularly.
Third, SFI has an e-commerce shopping site, called TripleClicks, where people can buy and sell a wide variety of items. Currently, there are more than 56,000 products listed in the store.
Here is the great thing: You will earn immediate commissions from the sale of any of those products: as an SFI affiliate, all you do is refer potential customers to the shopping site.
You can list YOUR products for sale, too, and let the SFI network of more than 100,000 affiliates help sell them for you.
Fourth, the SFI marketing plan allows you to invite others into the plan and when they duplicate your efforts, you can qualify for a variety of matching bonuses and other benefits that will increase your monthly income.
Those are the four key elements that I appreciate most about SFI. The marketing plan also offers some ways to add additional income streams for those affiliates who are interested.
Earlier I mentioned that I was going to highlight the SFI basics – that's the basic things you need to do to be successful with SFI. Here they are:
1. Start accumulating points in the training program: The more points you earn, the more income you get to share from the TripleClicks Executive Pool.

2. Promote the TripleClicks shopping site and earn direct commissions from sales you generate. (Training and resources are provided for the best ways to do this.)
3. Sponsor new affiliates into the SFI marketing plan, encourage them to duplicate your efforts, and you can qualify to receive matching shares of the TripleClicks Executive Pool.
4. Consider some of the other supplemental income streams (info will be provided in your personal SFI Affiliate Center).
In brief, as an SFI affiliate, you get: ongoing training and support; incentives and rewards for doing the training; direct commissions from TripleClicks sales; and potential matching bonuses for sales made by your team members.
Everything about the SFI Marketing Group is first class and professional. It is a home business you can be proud to build and will feel confident telling others about. And if you focus on the basics and work on building a proper foundation, you will be able to enjoy the rewards for years to come.
So, tell me. Do you have what it takes to build a successful online business? With SFI, all YOU need to bring to the table is your commitment. SFI will provide training and marketing resources and I will be there to answer questions and help you along the way. Join my team now.
~ ~ ~
* You might also enjoy these Internet Marketing Business posts:
~ Why SFI is the Best Home Based Internet Business for You
~ Residual Income Opportunities Make Dollars and Sense
~ Buy and Sell Online With TripleClicks
~ ~ ~

~ ~ ~
Tagged with: e-commerce store • sfi • tripleclicks
Filed under: Internet Marketing
Like this post? Subscribe to my RSS feed and get loads more!