Get Internet Marketing Training Two Easy Ways
Monday, September 2nd, 2013 at 10:58 pm
GT Bulmer © Affiliate Power Central
Wouldn't it be nice to get the Internet Marketing training you need right from the comfort of your own home? Wait a minute! The Internet makes that very easy to do! You just need to find a reputable source for the training.
Let me make it easy for you. Here are two ways to access an excellent Internet income training guide: one is free and available online 24/7; the other is in book form and can be purchased from my e-commerce shopping site.
Free is great, but to get the free version you need to sign up for the SFI Marketing Group affiliate program. Nothing wrong with that. There is no cost to join and never any purchase obligation. Buy if you don't want to join another affiliate program, then just buy the book. …
The book is called Internet Income, written by Internet Marketing consultant George Little. It has 14 chapters and 121 pages. The cost is $17.95 plus shipping.
The chapter titles in the book are:
1. The Potential Of Internet Income
2. What Not To Do – Spam
3. Introduction To Internet Traffic
4. Ten Common Online Marketing Methods
5. History Of Affiliate Programs
6. Building Your Team Of Affiliates
7. Doorway Pages
8. Introduction To Search Engines
9. Introduction To Metatags
10. Submitting Your Website With The Yahoo! Search Engine
11. The Google Search Engine
12. The Open Directory Project (DMOZ)
13. Paying For Search Engine Attention And Ranking-An Overview
14. Putting The Principles To Work For You
As you can see, this training guide covers all of the key points. George writes in a comfortable, easy to read, easy to understand style that gives you the insight you need to make your way through the maze of Internet Marketing.
George's goal is to empower hard-working men and women who strive to achieve success and independence with researched information and proven strategies.
Affiliates with the SFI Marketing Group use an adapted version of George's guide, available free to SFI members online. New lessons are being added to the online version regularly.
However, those who do not want to become an SFI affiliate are more than welcome to buy the book from my e-commerce shopping site. It is worth the cost and it truly is an investment in your online business.
Buy the book now and get the Internet Marketing training you want and need. After all, it's your future, right?
~ ~ ~
* You might also enjoy these Internet Income posts:
~ Real Internet Income Fast and Easy
~ Grow a Second Income with Residual Results
~ ~ ~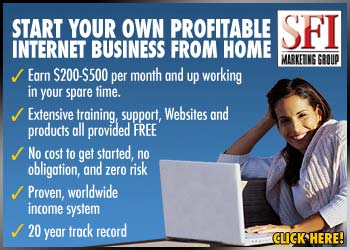 ~ ~ ~
Tagged with: internet income • internet marketing training
Filed under: Internet Marketing
Like this post? Subscribe to my RSS feed and get loads more!