Internet Income Opportunities Still Viable Solution
Tuesday, January 29th, 2013 at 11:10 pm
GT Bulmer © Affiliate Power Central | GT @ Google+
A few years ago when the world economy took a decided turn for the worse, Internet Marketers were quick to jump on the doom and gloom bandwagon, touting Internet income opportunities as the solution to offline income woes.
As a result, home business hopefuls flocked to the Internet in droves expecting to achieve quick results and overnight success. Unfortunately, very few found themselves in the right place at the right time doing the right things to make any real money online.
The majority spent more time and money than they could afford, only to discover that success as an Internet Marketer was not as quick or easy as they may have been lead to believe. Many got discouraged and faded away. …
A few stuck to their goals, determined to commit the time and effort necessary to properly learn the online marketing business and develop a steady monthly income from their chosen Internet income opportunities.
Internet Marketing success is still possible, but for most people it will take clearly defined goals, serious focus, dedicated daily action and a level of commitment like they've given to very few things before.
Clearly defined goals are important because you need to know why you're doing it and what you are working towards. Your goals are milestones that mark your progress and show you that you are still on the right track.
Serious focus is vital because life is filled with too many distractions as it is, not to mention the additional challenges of doubt, discouragement and competing income programs that always crop up when you're having the toughest time with your current one. You need to stick with your original plan and stay focused.
Dedicated daily action serves the purpose of keeping you working towards your goals step by step, like building a foundation. Every task you do to build your business is like a brick that when properly placed, strengthens your foundation. If it sits idle for too long between times, the bricks begin to weather and deteriorate. You make the foundation stronger by working on it every day without fail or excuse.
Commitment is an extension of focus and action. You commit to the ultimate success and achievement of your business, your marketing plan and your goals. Your mind is firmly set to persevere through any and all challenges, setbacks and roadblocks that may occur.
You can apply this process to any Internet income opportunities you choose. We each have our favourite marketing plan, the one we are dedicated to. If you look around my website and my other posts it should be obvious where I am personally focusing the bulk of my attention.
Whatever your Internet Marketing plan is, whether it is an existing income plan, or you are looking to make a new beginning, it is advisable to define your purpose and your goals as clearly as you can and make a firm commitment of focus and daily action. Online success is attainable. You can do it! Believe and commit.
~ ~ ~

* You might also enjoy these Internet Income posts:

~ Advanced Marketing Opportunity for Go-Getters

~ Rules of Success for Affiliate Marketing

~ Home Business Success Strategies Revealed

~ ~ ~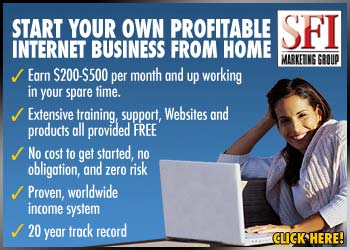 ~ ~ ~
Tagged with: internet income • internet income opportunities
Filed under: Internet Marketing
Like this post? Subscribe to my RSS feed and get loads more!