Internet Marketing eBooks
Thursday, February 28th, 2013 at 10:45 pm
GT Bulmer © Affiliate Power Central
Home business resources for education and training come in many shapes and sizes and from a variety of sources. You can pick up physical media, like print books, CDs and DVDs, and a wide variety of Internet Marketing eBooks.
Let me share with you a particular source of such resources, one that I recommend … because it is part of my online e-commerce shopping site! (No beating around the bush on that one, huh? LOL)
The site is TripleClicks.com and it is the centerpiece of the SFI Marketing Group Internet business opportunity. TripleClicks now lists more than 66,000 products in more than two dozen categories, including Books, Business and Computers. …
I haven't tried counting the number of eBooks listed at TripleClicks (it could be around a thousand), so that's one statistic I can't give you, but I can tell you there are numerous Internet Marketing eBooks in a variety of price ranges, many of them available for as low as one dollar.
Here are a few examples:
~ Jim Edwards on Copywriting, $1.00
~ 5 Ways to Create PDF eBooks and Special Reports Without Adobe Acrobat, $1.00
~ The Road to Niches, $1.22
~ How to Generate Quick Cash in an Emergency, $1.22

~ Traffic Strategies Revealed, $1.22
~ Niche Marketing Master Course, $1.22
How about your own fully stocked eBook Store?
~ 1,000 eBooks and eBook Store with Resell Rights, $79.00
~ 2,000 eBooks and eBook Store with Resell Rights, $89.00
Please don't judge the selection or value of the TripleClicks inventory by the few examples I have given here. Visit the eBook section of the TripleClicks site and go through the list of titles yourself.
If you know anything about me, you know that I am a big promoter of the value of lifelong learning. If you are involved in online marketing, I believe there are few things better for the future of your business than an ongoing program of education and information updates.
Internet Marketing eBooks are just the thing for the purpose because they are immediately accessible and they are economical. Budget for at least a few new marketing related eBooks each month; in a few years or so, you will be very glad that you did.
~ ~ ~

* You might also enjoy these Internet Marketing blog posts:

~ Affiliate Marketing Network Back Online

~ Website Tips for Affiliate Marketers

~ 3 Keys to Affiliate Income, Part 3

~ ~ ~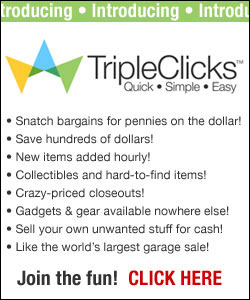 ~ ~ ~
Tagged with: Home Business Resources • internet marketing ebooks • tripleclicks
Filed under: Internet Marketing
Like this post? Subscribe to my RSS feed and get loads more!