Real Internet Income Fast and Easy
Saturday, August 31st, 2013 at 9:45 pm
GT Bulmer © Affiliate Power Central
If you want to earn real Internet income, the trick to doing it is really easy: you just need to find something to sell that people want, and then sell lots of it! Once you have perfected this process, making money online is fast and easy.
However … for most aspiring home business Internet Marketers, the hard part is learning how to market and sell effectively online. You might hear quite a few "success stories" but in reality most people take years to develop this type of money-making skill, and very few are able to perfect it to the point of becoming a full time income.
So, where does that leave you as an online entrepreneur? Well, while the bad news is that making money online is seldom fast and easy, the good news is that it IS possible with some vision, planning, effort, dedication and commitment. …
The whole process starts with your desire for personal achievement and financial independence. You must truly want to develop or increase your home business income and you need to have a specific target, a defined income goal.
Once you know your income target, you will know exactly how much you need to earn every year, every month, every week and every day. This precise knowledge will help you develop a plan of action for creating the income you need.
Your action plan will begin with choosing a targeted industry or targeted product or service line to focus on and develop. In this day and age, it is recommended to choose a niche market and to avoid too much diversity in your offerings. Be focused in your marketing and work on attracting keenly interested prospects.
Once you know what you will be selling, you need to decide exactly how you will market and sell it.
A website designed around the theme of your chosen niche is a smart place to start. You might sell products or services for other people or as provided by affiliate marketing companies; you might never have your own products to sell. But if you use your own personal website to market whatever it is you choose to sell, then you have full and complete control over what you sell and how you promote it. That is the starting point for earning real Internet income.
Using your website as your home base for Internet Marketing, you can then expand your promotional efforts to blogging, article marketing, advertising (both free and paid), social marketing, and other methods that you will learn as your home business grows and develops.
Your success will revolve around clearly identifying who your best prospects are; understanding where to find them; creating appealing content, ads or email subject lines to grab their attention; motivating them to click your links; encouraging them to provide their contact details if they are not buying anything during that visit; and then following up to answer any questions or to remind them to take another look at your offerings.
Marketing is quite a process! Not only do you have to learn the process and then become effective at applying it, but you also have to deal with an ever-growing contingent of competitors because in today's economy, everybody is looking for ways to earn real Internet income and many of those people are targeting the same prospects that you are!
Actually, that is good news for you because it means there are countless people out there just waiting for you to demonstrate that you are the marketer that has exactly what they want.
So, what are you waiting for? Are you looking to start your income flow, or are you looking to improve or expand your current Internet income flow? Today is the day to get started in earnest.
Let me recommend the SFI Marketing Group as your starting point.
First, it is a legitimate affiliate marketing company with a proven track record.
Second, the free Internet Marketing training provided is above average and very thorough.
Third, the entire compensation plan is centered on TripleClicks.com, the company's e-commerce shopping site.
Fourth, it is a real business, not a fly-by-night get-rich-quick scheme.
Fifth, once you learn the business and effectively build your foundation for financial success, you can set yourself up to earn residual income for years to come.
The best thing to do is sign up as an SFI affiliate (it's free and there is never any purchase requirement), and then start reviewing the info and training sections in the SFI Affiliate Center. That's it! Do it now. You have nothing to lose and much to gain!
~ ~ ~
* You might also enjoy these Internet Income posts:
~ Grow a Second Income with Residual Results
~ Yes, You Can Make Money Online, If…
~ ~ ~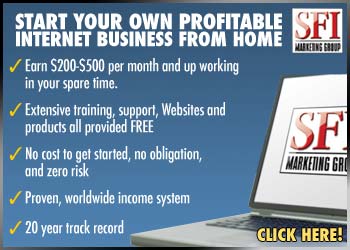 ~ ~ ~
Tagged with: make money online • real internet income
Filed under: Internet Marketing
Like this post? Subscribe to my RSS feed and get loads more!