Top Three Ways to Earn Real Internet Income
Tuesday, November 6th, 2012 at 11:40 pm
GT Bulmer © Affiliate Power Central | GT @ Google+
Home business enthusiasts around the world make money online every day in many ways. Anybody can do it with some study, effort and determination. Here are three top ways to earn real Internet income, all with one opportunity.
The opportunity is with the SFI Marketing Group … and before you say, "Oh, I've heard all about that," please give me a chance to tell you why I am now an active and enthusiastic SFI affiliate and why I think you should, at the very least, sign up to get an inside look at what SFI is truly all about.
My initial search for real Internet income actually began with SFI about five years ago, but I had no Internet experience at that time and did not understand the power and potential of the SFI marketing system. As a result, I did not put sufficient effort into making it work. …
Naturally, my monthly SFI income was minimal and I ended up doing what so many other aspiring Internet Marketers do: I went off chasing my tail for a few years trying to find the "easy" way to make money online, never finding it.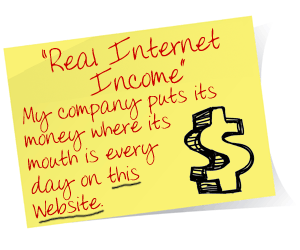 Turns out Internet Marketing is just like any other kind of business: you need to learn the right skills; you need to apply those skills effectively; and you need to be focused, determined and dedicated until you have adapted and modified your methods to the point of producing the desired amount of monthly income.
If you're not earning the income, then you've got a weak link in the process that needs to be fixed.
That is the personal realization that I came to earlier this year. It's not that I haven't been making some money online, but it hasn't been anywhere close to what my Internet income goal is.
So, I examined what I was doing, identified the weak links and then began a review of online opportunities that could address the deficiencies. Imagine my surprise when I decided to give the SFI Marketing Group another peek, after being away from it for several years, just to see what they were up to these days, and discovered that the ideal home business opportunity was right under my nose all these years!
Experience gives a person a whole different perspective.
Top Three Ways to Earn Real Internet Income
Here are three of the weak links I found in my marketing process and how SFI addresses them:
1. Consumer Sales
I have been trying to sell Internet Marketing resources to Internet Marketers, most of who are trying to sell similar things to the same market. I will keep doing that because there is a market for it, but I have accepted the fact that I need to find a stronger market: a consumer market, to be exact.
SFI provides an ideal means to do this through their e-commerce shopping site, TripleClicks. This site has more than 56,000 products (and growing) and when people purchase items from your TripleClicks gateway, you earn a direct commission of 45% of the commission volume for the product.
2. Residual Income
Up until now, most of the products and services that I sell have been one-time sales, meaning that once the sale is made, I may never again sell something to that customer.
SFI, on the other hand, has an E-Commerce Associates Program where executive level SFI affiliates can refer small and medium businesses to TripleClicks to list and sell their items on the site and when sales are made, the referring affiliate earns a 10% sales commission (based on commission volume).
This is powerful! You refer a few new ECA's each month and after a year you could be earning hundreds or even thousands of dollars a month in residual income for as long as you remain an SFI affiliate in good standing.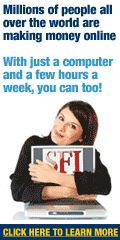 It gets better. You can refer customers to a specific product being sold by one of your ECA's and when the customer buys it, you earn both the 45% sales commission AND the 10% ECA commission.
3. Group Volume Rewards
Up until now, none of the products or programs I have been promoting have allowed me to earn commissions or rewards by developing a group or team of marketers.
SFI addresses this with a unique system that rewards you for sponsoring new affiliates and encouraging them to use the SFI training and marketing materials to duplicate your efforts. Here's the great thing: when they buy from TripleClicks, you earn the 45% commission. Also, you can qualify for additional monthly commissions based on the volume of purchases and sales made by affiliates on your team down through 12 generations.
This is powerful.
Through sponsoring and duplication, you can build a team that will eventually continue to grow on its own and will provide you with one more source of ongoing residual income.
That's the lowdown on the SFI Marketing Group. There are additional ways to make money with SFI, but those are the top three, in my opinion. After chasing my tail for years, I came to my senses, re-committed to SFI and am now building a team and both monthly and residual income.
I simply did not realize the power of the SFI plan until I signed in and browsed around in my SFI Affiliate Center and gave the whole plan another very thorough review (I mean thorough!) and spent some time analyzing exactly how to make money with the opportunity.
Please accept my invitation to take an inside look at SFI and see this for yourself. It costs nothing to sign up and there is never any obligation to buy anything (although you are encouraged to support the TripleClicks shopping site). Once you've been on the inside, I will be very happy to answer any questions you may have.
If you like what you see and decide to continue, then let's work together in our mutual quest to earn some real Internet income. Together, we can do it!
~ ~ ~
* You might also enjoy these Real Internet Income posts:
~ Can You build A Successful Online Business?
~ Why SFI is the Best Home Based Internet Business for You
~ Buy and Sell Online With TripleClicks
~ ~ ~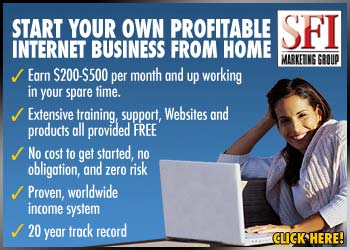 ~ ~ ~
Tagged with: real internet income • Residual Income
Filed under: Internet Marketing
Like this post? Subscribe to my RSS feed and get loads more!