E-Commerce Associates Program: Make Money Online, Part Five
Friday, January 17th, 2014 at 11:01 am
GT Bulmer © Affiliate Power Central
This home business blog post will highlight how to make money online with the E-Commerce Associates Program on the TripleClicks.com shopping site. If you have been following along, this is Part Five in my six-part series.
The previous post in this series highlighted the TripleClicks TCredit Bonus where, as an affiliate with the SFI Marketing Group, you can earn TCredits that are like cash on the TripleClicks site and can be used for a number of things.
The E-Commerce Associates (ECA) Program is designed for small and medium commercial businesses that want to list and sell their products or services on the TripleClicks site. You can refer these businesses to TripleClicks and earn residual income for life on sales they make. …
The Affiliate Center on the SFI Marketing site provides full training and marketing resources to help you promote the ECA program and be successful with it.
There are a number of ways to promote it and present it to various prospects. I will stick to the basics in this post.

The first thing you do is become an affiliate with SFI. There is no cost to join, no cost to maintain your membership and no purchase obligations.
Second, you will read up on what the ECA program is, how it works, why it is beneficial to commercial businesses, and how to set up your marketing resources and begin prospecting for ECA sign-ups.
Third, you will market and advertise for ECA prospects and begin signing them up into the program.
Fourth, if you consider it to be necessary or beneficial, you can remain available to answer additional questions they may have and encourage them to begin listing their items at TripleClicks.
Fifth, well, this is where you sit back and enjoy the residual income from sales made by ECA members you have referred! You will continue to receive this income for as long as they keep selling on TripleClicks and as long as you remain an affiliate in good standing with SFI.
TripleClicks is a great place for commercial businesses to list, promote and sell their items. We currently have more than two million SFI affiliiates, all who are automatically TripleClicks members as well and who are motivated to visit and shop at TripleClicks.
Additionally, many active SFI affiliates also aggressively promote the TripleClicks site to their contacts and circles of influence, so that means countless numbers of non-SFI customers visit TripleClicks every day.
TripleClicks currently lists more than 111,000 products and services in 28 categories, making it an increasingly popular site for shoppers. Your personally referred ECA members will have the opportunity for some excellent exposure and the potential for good sales volume.
That can translate into a comfortable monthly income for you, and all you really have to do is refer ECA prospects to your personally coded ECA sales page (we call it a gateway). If they see the value in the ECA program and sign up (there is no cost), they become your referral and the TripleClicks system looks after the rest for you.
Here is my ECA gateway:
http://www.affiliatepowercentral.com/recommends/ecommerce2.php
PLEASE NOTE: That is the information page for small and medium commercial businesses who want to join the ECA Program. That is NOT the sign-up gateway for regular TripleClicks members OR to become an SFI affiliate.
If you want to promote the ECA program and benefit from it as I have outlined in this post, then you must first become an SFI affiliate. You can do that here: Read about and join SFI here
Again, there is no cost or obligation to join SFI and the benefits of training and resources are very impressive.
Regarding the ECA program, as I mentioned earlier, depending on your relationship with a particular ECA that you recruit, you may choose to stay in contact with them, offering your assistance to help them better understand the program and how to begin listing their items. That is your option.
The TripleClicks.com E-Commerce Associates Program can be an awesome way to earn ongoing residual income.
This was the fifth post in my six-part series. Be watching for part six where I will tell you how to make money online with the SFI Pay-Per-Action program.
~ ~ ~
* You might also enjoy these Internet Home Business posts:
~ Part Four of Ways to Make Money Online: TripleClicks TCredit Bonus
~ Make Money Online, Part Three: Co-Sponsored Affiliates
~ Six Ways to Make Money Online: Part Two, the Executive Pool
~ ~ ~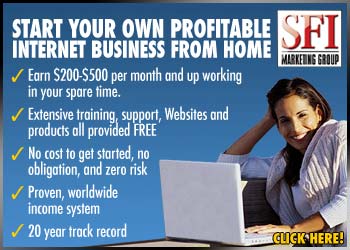 ~ ~ ~
Tagged with: Affiliate Marketing • real internet income
Filed under: Make Money Online
Like this post? Subscribe to my RSS feed and get loads more!