Make Money Online, Part Three: Co-Sponsored Affiliates
Sunday, January 5th, 2014 at 11:20 pm
GT Bulmer © Affiliate Power Central
Here is the third installment in my six-part series on how to Make Money Online. Part two covered the TripleClicks Executive Pool. Today, I will share my excitement over the Co-Sponsored Affiliates I receive in my favourite affiliate program.
Most Affiliate Marketing programs allow you to sponsor or recruit other affiliates and earn commissions or bonuses based on their sales and purchase activity. Here is where the program I promote goes above and beyond!
As an affiliate with the SFI Marketing Group, I have qualified to receive free Co-Sponsored Affiliates (CSAs) every month since I re-committed to SFI in 2012. That means that I have been receiving CSA commission income every month since that time, too! …
So, in addition to the direct commissions I receive monthly as a result of my PSAs (personally sponsored affiliates), and the TripleClicks Executive Pool income I receive monthly, I also receive commission income from purchases made by my CSAs, plus I receive additional Executive Pool income based on the activity of CSAs who have qualified for certain achievement levels.
What is a Co-Sponsored Affiliate?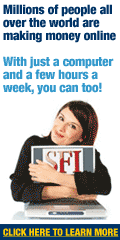 A CSA is an affiliate that has been personally sponsored into the business by someone else, but you have been assigned as their co-sponsor. As their co-sponsor, you provide one more avenue of support and training for that affiliate. SFI uses a variety of ways to assign CSAs to co-sponsors.
As an incentive to you to be a good co-sponsor, you receive direct commissions based on their purchases, and additional shares in the monthly Executive Pool when any of your CSAs reach certain achievement levels.
In the beginning, I did not fully realize the value of Co-Sponsored Affiliates. It wasn't until the company did the monthly commission runs for a few months that I began to see the light.
You see, the percentage value of the commissions you receive from CSA purchases is quite a bit less than the percentage you receive from PSA purchases. It is 15% of the CV (commission volume) from CSAs, as opposed to 45% from PSAs. (CV is determined by the product's margin; that is, the difference between the product's wholesale/base cost and the price the product sells for).
But the advantage of CSAs is, first, you get them free; you don't have to put in time and effort recruiting them like you do with personally sponsored affiliates. Second, they already have a sponsor who should be providing leadership (although, that is not always the case).
How do you get CSAs?
There are several ways to get CSAs:
~ Two awarded each month you attain Executive Affiliate status
~ Win them in daily draws
~ Win them in the Pricebenders Auctions on the TripleClicks.com site
~ Receive shares of them each month that you achieve certain leadership levels
I have personally received CSAs from all of the above listed methods. I currently have many more times the number of CSAs than I do PSAs.
Being completely open here, I will tell you that statistically, the majority of the affiliates that you personally sponsor and the majority of the CSAs you receive do not remain active in the business. If you have any experience with affiliate marketing, you will know this is true with any affiliate marketing company or program. Most people are looking for a free ride and are not willing to work for their rewards. Therefore, they are not committed and are terribly transient. That's human nature.
Even so, a percentage of my PSAs are working at building their SFI business and a percentage of my CSAs are doing the same. It just so happens that I have MANY more CSAs than PSAs! So, even though the commission percentage is less for CSAs, the number of active CSAs that I have makes up for it.
In the beginning, there were times when the results of my efforts to personally sponsor new affiliates were discouraging and I doubted my ability to stick with SFI. But when I started receiving CSAs, and then the monthly CSA commissions, my whole perspective changed. I made a fresh commitment to my SFI business and I haven't looked back since!
Again being honest, I will admit that I still have a long ways to go to achieve my income goals with SFI, but month by month, I am making progress. My ever-expanding team of Co-Sponsored Affiliates is a big reason why I am still in the game!
That is how you, too, can make money online in 2014 with Co-Sponsored Affiliates in the SFI affiliate marketing program.
Watch for Part Four in this six-part series where I will tell you about TCredits and how to earn TCredit bonuses!
~ ~ ~
* You might also enjoy these Affiliate Marketing posts:
~ Six Ways to Make Money Online: Part Two, the Executive Pool
~ Six Ways to Make Money Online in 2014: Part One
~ Make Money Online Referring Commercial Businesses
~ ~ ~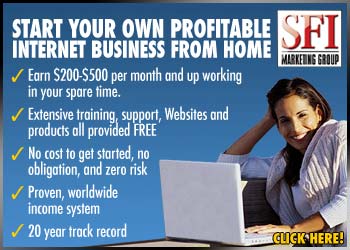 ~ ~ ~
Tagged with: Affiliate Marketing • real internet income
Filed under: Make Money Online
Like this post? Subscribe to my RSS feed and get loads more!