Part Four of Ways to Make Money Online: TripleClicks TCredits Bonus
Saturday, January 11th, 2014 at 3:43 pm
GT Bulmer © Affiliate Power Central
Here is Part Four of Six Ways to Make Money Online in 2014. This post will provide exciting insight into why TripleClicks TCredits are like cash and how you can easily earn a TCredits Bonus every month.
First, let me reinforce the fact that millions of people all over the world are making money online every month. Some make a few dollars, while many are making a significant income from their efforts.
Your ability to duplicate their success will depend on your interests, your commitment to learning the process, and your dedication to following the steps every month until you reach your personal Internet income goals. …
I will be perfectly frank here: most wannabe Internet entrepreneurs give up and fall away before they ever earn more than a few dollars. The reason? It is because Internet Marketing is a business like any other that requires time, effort and commitment, and the average opportunity seeker just doesn't have it in them to focus that long and do what it takes.

For those who get the connection between effort, commitment and reward, this can be a great business and an awesome way to grow a second income for themselves or their family or in preparation for their retirement.
Okay, let's get to the purpose of this post!
The TripleClicks e-Commerce Shopping Site
If you have read my other posts in this series, you will know that TripleClicks.com is an e-commerce shopping site where members can buy and sell things in nearly 30 categories of products and services.
Some people post items from around the house that they no longer use or want. Other sellers are small or medium commercial businesses with new items for sale. TripleClicks provides a secure platform allowing registered users to sell on the site and visitors to shop comfortably and conveniently at their own leisure.
The TripleClicks TCredits Bonus

Home business entrepreneurs who are interested in ways to make money online can become an affiliate with the SFI Marketing Group, a leading Affiliate Marketing company.
Affiliates with SFI get full access to training and marketing resources and have a variety of choices for earning real Internet income with SFI. Promoting the TripleClicks site and earning direct commissions from sales there is just one of the six primary ways to make money.
The TripleClicks TCredits Bonus is another way.
TripleClicks customers do not need TCredits to buy things on the site, but as an SFI affiliate, you can use TCredits for a variety of things, including making purchases, listing your items for sale, participating in auctions, downloading music, and even giving TCredits away as awards or incentives to your team members in the SFI affiliate program or to attract new TripleClicks customers.
A single TCredit sells for $1.99. You can also buy various pack sizes of TCredits, bringing the single cost down to about 30 cents each. As you can see, TCredits have a cash value not to be overlooked or underestimated!
You can qualify to earn TCredits in a number of ways:
~ (TCredit Bonus) Receive 10 TCredits each month you achieve Executive Affiliate status with SFI
~ (TCredit Bonus) Receive up to 20 TCredits each month you achieve one of the Team Leader positions
~ Win TCredits in daily draws on the SFI affiliate site
~ Win TCredits in other draws and contests
~ Win TCredits in the auctions on the TripleClicks site
Consider the value of the TCredits Bonuses (10 or up to 20 TCredits each month). When you maintain your Executive Affiliate status, you receive 10 TCredits: that can be equal to a value of $19.99 each month.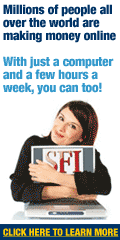 Platinum Team Leaders receive 20 TCredits, or the equivalent of $39.98, each month that they qualify.
There are ways to qualify as an Executive Affiliate either with or without personal purchases from TripleClicks. Team Leaders have additional qualifications that include coaching and training some of their personally sponsored affiliates to achieve the Executive level.
In all instances, the TCredits Bonus has real cash value. If you are serious about building your SFI business and maintaining your Executive or Team Leader position, you can receive TCredits as a bonus and apply the cash value of them to further develop your business. You do not receive cash for the credits you receive, but you can use them like cash on the TripleClicks.com site.
Read the previous post in this series, Make Money Online, Part Three: Co-Sponsored Affiliates, and watch for Part Five on how to earn extra income by promoting the TripleClicks E-Commerce Associates Program for small and medium businesses.
~ ~ ~

* You might also enjoy these Affiliate Marketing posts:

~ Make Money Online, Part Three: Co-Sponsored Affiliates

~ Six Ways to Make Money Online: Part Two, the Executive Pool

~ Six Ways to Make Money Online in 2014: Part One

~ ~ ~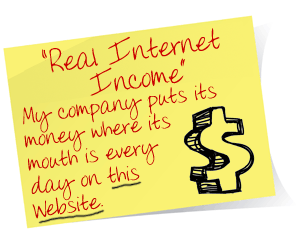 ~ ~ ~
Tagged with: Affiliate Marketing • real internet income
Filed under: Make Money Online
Like this post? Subscribe to my RSS feed and get loads more!