Six Ways to Make Money Online in 2014: Part One
Tuesday, December 31st, 2013 at 5:51 pm
GT Bulmer © Affiliate Power Central
This is the first post in a six part series on ways to make money online in 2014. Each of these six ways is unique for its own reasons, but each one is also part of the same Affiliate Marketing program provided by the SFI Marketing Group.
Everybody who is interested in building a business online seeks to earn real Internet income. There are many ways to do it and many good affiliate companies to consider.
I chose SFI after checking out and trying several online income opportunities over the past few years. SFI was the first one I joined, but then I left SFI in search of an easier way to earn internet income. …
After a few years, I came to realize that there was no "easy" way. Every marketing program available has a couple of things in common: they all take focus, commitment, effort and persistence.
Also, despite the promises you will see in hyped-up ads and presentations, every single one of them requires that YOU do the marketing, the advertising and the promotion. Many provide training. Many provide support. But YOU have to do the footwork. Otherwise, why would they need you at all?
So, after leaving SFI and spending some time learning the above lesson, I realized that SFI truly was what it says it is: a leader in Affiliate Marketing!
Part One: Direct Commissions
The first way you will make money online with the SFI affiliate program is through Direct Commissions.
Every legitimate program needs products and/or services that can be purchased by members and customers. The backbone of the SFI program is the TripleClicks.com e-commerce shopping site.
TripleClicks currently lists more than 113,000 products and services that SFI affiliates can advertise, promote and sell to earn direct commissions. (That's more than 100,000 ways to make money online!) Free training and marketing resources are provided, including gateway websites, banners, text ads and more.
Purchases by Personally Referred Customers
When you make a sale to a personally referred TripleClicks customer (personally referred member or PRM), you earn a direct commission of 45% of the commission volume (CV). CV is determined by the product's margin (the difference between the product's wholesale/base cost and the price the product sells for).
Purchases by Personally Sponsored Affiliates
The SFI marketing plan allows you to sponsor or recruit other affiliates into the program. Whenever one of your Personally Sponsored Affiliates (PSAs) purchases qualifying products or services through the TripleClicks shopping site, you automatically earn a direct commission of 45% of the CV.
By the way, in case you are wondering, there is no cost to become an SFI affiliate and there are no purchase requirements. There are incentives to encourage you to consider making purchases, but that is just an option. If you want, you can become a member and build your SFI business without ever making a single purchase.
That's the end of Part One of this six part series on ways to make money online in 2014. Watch for Part Two where I will talk about earning monthly income from the TripleClicks Executive Pool.
Until then, if you want to know more, you are welcome to sign up as an SFI affiliate and get the complete inside scoop all at once! It's your choice.
~ ~ ~
* You might also enjoy these Internet Income posts:
~ Build Your Internet Home Business with SFI in 2014
~ Make Money Online Referring Commercial Businesses
~ How to Make 2014 Your Year for Higher Achievement
~ ~ ~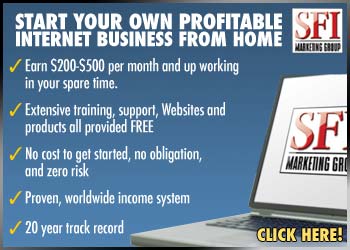 ~ ~ ~
Tagged with: Affiliate Marketing • real internet income
Filed under: Make Money Online
Like this post? Subscribe to my RSS feed and get loads more!