Six Ways to Make Money Online: Part Six, Pay-Per-Action
Sunday, January 19th, 2014 at 6:22 pm
GT Bulmer © Affiliate Power Central
This is the final post in my six-part series on ways to make money online in 2014 with SFI. This post will highlight the Pay-Per-Action program available from the SFI Marketing Group, a leading Internet affiliate marketing program.
SFI offers its affiliates six distinct ways to earn real Internet income. The program is free to join, there are no purchase requirements, and affiliates can choose to take advantage of any or all of the six ways to make money.
Very simply put, if you choose to promote the SFI Pay-Per-Action (SFIPPA) program it will pay you a direct cash bounty for new affiliates who you recruit into the SFI affiliate program. There are some guidelines and a few details about this that you should be aware of. …
First, any recruits you refer to the SFIPPA will NOT become part of your personal SFI marketing team if you are participating in the affiliate program as I am doing. All you are doing with the SFIPPA is acting as an advertiser for SFI and your reward for each qualified recruit will be a one-time bounty of up to $10. That's it.
Second, in order for you to receive the one-time bounty for a new SFI sign-up they must first meet a few requirements.
For example, to help assure legitimate sign-ups, the monthly activity of your PPA sign-ups is compared to the monthly activity of non-PPA sign-ups in SFI. If your sign-ups fall within the acceptable ranges, you will earn the prescribed bounty and will be credited with from $.50 to $1.50 per qualified sign-up. Also, if your PPA sign-up achieves the rank of Team Leader within 90 days, you will receive an additional $8.00 for that sign-up.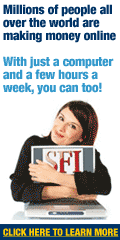 That is the SFIPPA program and bounty in brief. You can read all about it in greater detail once you have become an SFI affiliate. Remember, there is no cost to join SFI and no purchase requirements. Once you are a member, you get full access to all of the free training and marketing resources available in the SFI Affiliate Center.
If you choose to promote the SFIPPA, training is provided, as well as your own gateway website for marketing the program, plus banner ads, text ads, and splash pages for traffic exchanges.
One more thing you should know:
I am NOT part of the SFIPPA program. I do not promote it.
The reason is because I am focusing on the team-building part of the SFI affiliate program. What that means to YOU is, when you join SFI through one of my SFI links, I will be your personal sponsor and you will definitely be part of my SFI marketing team. I will be available to answer questions and assist you to the best of my ability.
Once you join and are part of my team, then it is completely your choice which of the six ways to make money online with SFI that you want to do. You can do some or all of them, including the SFIPPA; it's all up to you.
Since this is the last post in this six-part series, here are the links to the first five blog posts:
~ Six Ways to Make Money Online in 2014: Part One (Direct Commissions)
~ Six Ways to Make Money Online: Part Two, the Executive Pool
~ Make Money Online, Part Three: Co-Sponsored Affiliates
~ Part Four of Ways to Make Money Online: TripleClicks TCredits Bonus
~ E-Commerce Associates Program: Make Money Online, Part Five
Please feel welcome to read each of these home business resources blog posts. And please join me in the SFI affiliate program.
It is a business like any other that requires vision, focus, daily effort, determination and commitment, but we definitely have the training and marketing resources you need, and SFI is definitely a leader in the Affiliate Marketing industry. Sign up, take a look around the Affiliate Center and you will begin to see what I mean! I'll see you there!
~ ~ ~

~ ~ ~
Tagged with: Affiliate Marketing • real internet income
Filed under: Make Money Online
Like this post? Subscribe to my RSS feed and get loads more!