Yes, You Can Make Money Online, If…
Sunday, July 14th, 2013 at 10:37 am
GT Bulmer © Affiliate Power Central
Yes, you can make money online, if you are willing to learn the steps, apply the steps, and stay focused on the steps until you achieve your goal. You can also lose money online if you are a program jumper and don't stick with the plan.
In my opinion, and based on experience and observation, there are three ways to become successful in Internet Marketing: You are either a naturally talented marketer, an experienced marketer with developed skills, or a focused and determined aspiring marketer.
Naturally talented marketers seem to have a way with words and a way with people. They are confident, direct, persuasive and persistent. People just seem to respond well to their sales pitch. …
Experienced marketers may not have a natural talent for it, but they have taken the time to learn the techniques and have practiced them until they are very good at it. With experience, it becomes second nature to them and then they appear to be naturals.
Determined, aspiring marketers simply have a dream, the desire for success and achievement, and the expectation that it is all going to work out for them. However, to be successful, they need to invest some time and effort into getting educated and getting experience. It does take time.
Because it takes time, it also takes a great deal of focus and commitment, something that the average marketer seems to be a little short of.
You need a plan and you need to stick with the plan.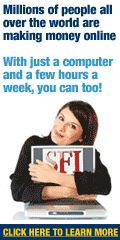 There are many ways to make money online. Personally, I prefer the affiliate marketing approach, where you can earn commissions from direct sales to customers and you can also earn residual income based on sales and purchases made by other marketers who you personally recruit into the business.
Here are the steps I am following to earn monthly income through affiliate marketing. You can do it, too, if you learn the steps, follow the steps and stay focused on the steps:
1) Direct Sales: Income success with my affiliate program of choice, the SFI Marketing Group, is based on our professional and popular e-commerce shopping site called TripleClicks.com. I advertise and promote TripleClicks to attract personally recommended members and customers and to earn direct commissions from their purchases.
2) Team Leadership: SFI is free to join and provides comprehensive training and marketing aids, both for TripleClicks sales and for affiliate recruiting and sponsoring. As you build your affiliate team and qualify for higher leadership levels, you increase your monthly earning potential.
The first level of leadership that you aim for is Executive Affiliate (EA). You can reach this level through sales, through personal purchases, or through a combination of both; it's your choice. I coach the leaders on my team to achieve EA status as quickly as possible to enhance their position, and to maintain it monthly to set the example for their own personally sponsored affiliates.
3) Duplication: The key to residual income success with any affiliate marketing opportunity is duplication: YOU follow the plan and you coach or train your team members to do the same. Once again, you learn the steps, you apply the steps, you stay focused on the steps and you coach your team to follow suit. YOU set the pace. You have to do it if you expect them to do it.
The intricacies of the compensation plan can be learned as you go along, but the key elements to success are direct sales, recruiting and duplication.
The challenge that most aspiring marketers face is sticking with the plan long enough to see the fruit of their labour. Results can be slow in the beginning and it can be frustrating to sponsor new affiliates only to see them quit after a month or two to jump to a new program that promises (but usually fails to deliver) quicker results.
But if you truly desire the rewards of leadership and can commit to a proven plan and will stick with it, you will emerge a leader and will be rewarded accordingly. Many are doing it right now.
So, are you serious about wanting to make money online? If you have a vision for your future in Internet Marketing then I invite you to sign up with the SFI Marketing Group (it's free and there are no purchase obligations) and check out the training and resources available to affiliates. Then just follow the plan. I will be there to coach and guide you.
~ ~ ~
* You might also enjoy these Affiliate Marketing posts:
~ Grow a Second Income with Residual Results
~ Where to buy Movies and Games Online; Music, Too!
~ How to Launch Your Own Garage Sale Online
~ ~ ~

~ ~ ~
Tagged with: free ways to make money online • make money online
Filed under: Make Money Online
Like this post? Subscribe to my RSS feed and get loads more!