Royalties for Life, Referring E-Commerce Businesses
Friday, October 12th, 2012 at 10:19 pm
GT Bulmer © Affiliate Power Central | GT @ Google+
This is just one of many ways you can make money online as an affiliate with the SFI Marketing Group: You can earn royalties for life by referring e-commerce businesses to the TripleClicks shopping website.
SFI affiliates have the option to participate in any or all of the marketing opportunities included under the umbrella of the SFI Marketing Group. In order to refer businesses to the E-Commerce Associates (ECA) Program and get the credit for it, you do have to be an SFI affiliate.
If you are a business who simply wants to participate in the ECA program and sell your products on TripleClicks, it is easy to become an associate: Visit our ECA information page for more details and click the link provided there to sign up free. …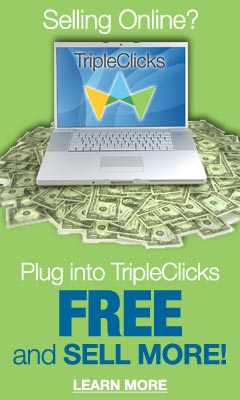 Now, for affiliate marketers who want to know how to earn royalties for life by referring e-commerce businesses to TripleClicks, here are some of the basics.
First of all, TripleClicks is a shopping website designed to handle just about any product or service. Sellers list their products; buyers browse and make purchases; TripleClicks handles the billing process; the seller is notified, ships the product and receives payment.
Here's where YOU come in as an SFI affiliate. Once you achieve Executive Affiliate status with the SFI marketing plan, you can then refer small and medium companies and businesses to the ECA program. When they get accepted, list their products and start making sales, YOU automatically earn royalties of 10% of the commission volume (CV) of every item sold. If the CV is $100, you earn a $10 royalty; if the CV is $1,000, you earn $100, and so on.
That's it. You have nothing more to do. As long as that company keeps selling items on TripleClicks, and as long as you remain an Executive Affiliate in the SFI marketing program, you will continue to earn royalties … for life.
Imagine the potential if you were to introduce one new ECA associate per week. If the total CV for all of your referred ECAs was $20,000 per month, you would earn $2,000 in ECA royalties each month – without making any direct sales. How's that for a passive income stream? Residual income doesn't get much better than that.
Here's something else. When you buy things from your own referred ECAs, you earn royalties on your own purchases!
One more thing: Your ECA affiliates can set up their own "store within a store" at TripleClicks where they can feature their items. You can send customers to your ECA's stores, using affiliate links provided by TripleClicks, and when those customers make purchases, you will earn direct commissions as well as ECA royalties. That means you will earn 55% of the CV on any sales generated that way.
There are other ways to make money online with SFI and if you are interested, you can also sponsor other people into the affiliate program and earn additional benefits and income from their activity. The E-Commerce Associates program for small and medium e-commerce businesses is simply ONE of the options available to you as an SFI affiliate.
Join me now as an SFI affiliate and once you have access to your Affiliate Center, you will find information and comprehensive training for the ECA program, TripleClicks and all other SFI programs. Join me now!
~ ~ ~
* You might also enjoy these Home Internet Business posts:
~ Why SFI is the Best Home Based Internet Business for You
~ Residual Income Opportunities Make Dollars and Sense
~ Buy and Sell Online With TripleClicks
~ ~ ~

~ ~ ~
Tagged with: e-commerce businesses • Residual Income
Filed under: Residual Income
Like this post? Subscribe to my RSS feed and get loads more!