Your 3-Step Plan For Passive Income Online
Sunday, November 11th, 2012 at 6:47 pm
GT Bulmer © Affiliate Power Central | GT @ Google+
The one goal that every Internet Marketer seems to share is a desire to reach a point where they are receiving steady, ongoing passive income online. Many try. A few succeed. Here is a three-step plan that gives you an advantage.
I am following this plan to build my home business income and I recommend it after reviewing many online opportunities and reaching the conclusion that this plan and the company that it is associated with is a leader in the field.
The plan is simple. Applying it is easy. Sticking with it until you achieve the level of passive income online that you desire? That is where most aspiring marketers have a problem. How about you? …
It has been my experience and observation that most home-based Internet Marketers are too impatient and unfocused to build any secure foundation in their online business. They suffer from "shiny object" syndrome, buying into every new get rich quick scheme and every new fast track product and promise that comes along.
I know. I've been there.
The alert marketers, the ones that make progress towards their income goals, learn to control and curtail that syndrome and instead focus their time and effort on building a foundation for future income success.
I've mentioned this in other recent home business blog posts, but a funny thing happened to me a few months ago. After letting the very first Internet Marketing program I joined lay dormant for a couple of years, I went back, reviewed the plan and realized that it was far more superior to other opportunities than I believed it was at the time I stopped working it.
That is the benefit of experience. If I hadn't gone off chasing other opportunities, I might not have come to this valuable realization.
To make this long story short, here is your three-step plan for passive income online:
Step 1) Choose an affiliate opportunity that rewards you for team building and bases your income on group sales volume. Study and practice to become a positive, supportive and enthusiastic leader with that opportunity;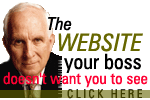 Step 2) Sponsor five active and enthusiastic affiliates who are as keen on building long-term residual income as you are;
Step 3) Teach those five affiliates to do these same three steps!
That's it! If you follow this plan, stay committed to it, support your team by example and with enthusiasm, you will succeed. It won't happen overnight, but that's okay because what you are doing is building a foundation for your financial future.
The effort and attention this requires will be greater in the beginning and the rewards may be less than you are aiming for. But if you stay committed and focused, you will reach a turning point where the resulting income begins to accelerate and the effort required begins to ease off.
That's it, as simple as it sounds: Become a leader; Build a Team; Train your personally sponsored team members to duplicate the same three steps.
I've found MY opportunity. You are welcome to join me if you are passionate and excited about building a solid business with superior potential for passive income online. Take a minute now to read more about this real Internet income opportunity here: SFI Marketing Group
~ ~ ~
* You might also enjoy these Real Internet Income posts:
~ Top Three Ways to Earn Real Internet Income
~ Can You build A Successful Online Business?
~ Why SFI is the Best Home Based Internet Business for You
~ ~ ~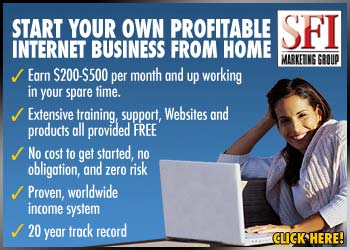 ~ ~ ~
Tagged with: passive income online • real internet income • Residual Income
Filed under: Residual Income
Like this post? Subscribe to my RSS feed and get loads more!