Digital Downloads Worth a Look
Thursday, August 22nd, 2013 at 11:35 pm
GT Bulmer © Affiliate Power Central
Chances are you already know that one of the things I promote online is the TripleClicks e-commerce shopping site. The site offers nearly 30 categories of items; one of the categories is the Digital Downloads section.
The Digitals section features e-books, software and other digital items. The selection is growing and it can change from day to day because existing members are always adding new items for sale and new members are joining the community regularly.
Overall, TripleClicks currently lists more than 96,000 products and services. The site has more than 1.7 million members. Items available for sale at TripleClicks include both used and new items. Many members list used items for sale, and many commercial sellers list new items. …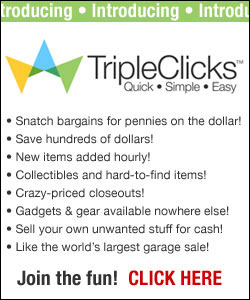 Many of the e-books in the Digital Downloads section sell for just $1.00 and include a very wide variety of topics.
The selection of software titles is not as comprehensive as the e-books, but it is still well worth checking out. The pricing on most items is very reasonable and you will find some incredible bargains on some items.
Many of the items in the Digitals section relate to home business and Internet Marketing, but a number of other topics are included as well, from self-help to personal development, personal care and much more.
My recommendation is that you visit the Digital Downloads section of the TripleClicks shopping site and check out the selection for yourself. You never know what treasures you might find until you take a look!
~ ~ ~

* You might also enjoy these Home Business Resources posts:

~ How E-Commerce Business Referrals Can Make You Money

~ Why You Should Plant a Money Tree Today

~ Grow a Second Income with Residual Results

~ ~ ~

~ ~ ~
Tagged with: digital downloads • sell digital products
Filed under: Shopping Online
Like this post? Subscribe to my RSS feed and get loads more!