Win Free Credits on this Popular Online Auction Site
Monday, April 22nd, 2013 at 12:59 pm
GT Bulmer © Affiliate Power Central
Many people like participating in auctions on the Internet. They are fun, challenging and sometimes very rewarding! Pricebenders is a popular online auction site where a lot of members win items for just pennies on the dollar.
Imagine getting gold coins for just 38 cents each; a remote control helicopter (with camera!) for just 56 cents; a one ounce silver bar for just ONE CENT; a Motorola unlocked 3G Android phone for $3.57; a Samsung Galaxy Ace (unlocked) for $1.58; a Samsung Chromebook for $19.86. These are all verifiable wins over the past few days. There are dozens more.
The way the Pricebenders auctions work is you buy credits that can be used for bidding in the auctions or for other features on the site. Here's the great part: there is also a way you can win either 50 or 200 FREE credits! …

Before I get into the way to win free credits on this online auction site, let me offer a disclaimer. This is probably true about other sites as well.
Even though many members do win a wide variety of items for just pennies on the dollar, it can also be very easy to get caught up in the heat of the moment and get carried away in a bidding frenzy and then the price can go quite high: don't let that happen to you.
First, develop a bidding strategy and a bidding limit. Second, realize that many of the auction items will come up again, so if one slips by you today, keep watching and it will likely come up for auction another time.
Alright. Now, about those free bidding credits…
Every auction has a "Pick the Price" link at the beginning where you can try to guess what the winning bid will be. After the auction is over, if your guess is correct and you were the first person to enter that guess, you win 200 credits!
Note: You have to get your guess in before bidding reaches the one dollar mark. After one dollar, the link is gone. Also, if the auction closes at less than $1.25, nobody wins the Pick-the-Price.
If the auction closes at more than $1.25 and nobody has the exact guess, then the person with the closest guess (without going over the closing price) wins 50 credits. Once again, if more than one person has entered that guess, then the first person to have entered it will be the winner.
You have lots of chances to win the Pick-the-Price because there are multiple auctions going on 24 hours a day. I have personally gone weeks without winning the Pick-the-Price, but there have also been several times when I have won it a few times in the same week. It all depends on your intuition and your guessing ability. Once you watch a number of auctions, you begin to get a feel for it.
So, how good are YOU at guessing numbers? Want to give it a try? For more information and to sign up as a member, check out my Pricebenders Auctions info page.
Wow! I know you won't believe this, but as I was writing this, before I posted it to my site, I won one of the Pick-the-Price contests! Closest guess for 50 credits! This can be verified in the "Latest Winners" section of Pricebenders! Auction ID 15436, PTP
Here's a link to the T-Credits purchase page. Check it out for the info, or buy some credits and test your guessing skills right away. It does cost one credit to enter a Pick-the-Price guess.
Whatever you do, be sure to check out this popular online auction site today. I just won 50 credits – you could, too!
~ ~ ~
* You might also enjoy these Shopping Online posts:
~ How to Sell Your Stuff Online for Cash
~ Let Your Bargain Shopping Online Begin Here
~ Sell Digital Products from this Online Store
~ ~ ~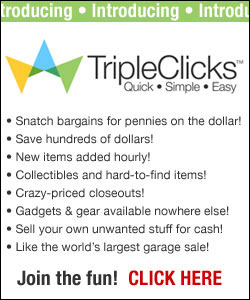 ~ ~ ~
Tagged with: pricebenders auctions • shopping online
Filed under: Shopping Online
Like this post? Subscribe to my RSS feed and get loads more!