E-Commerce Opportunity for Small Business Online
Sunday, April 13th, 2014 at 5:37 pm
GT Bulmer © Affiliate Power Central
If you run a small or medium sized business and you are looking for an easy way to advertise and sell your products or services on the Internet, here is an e-commerce opportunity for the small business online.
It is the E-Commerce Associates (ECA) program on the TripleClicks.com shopping site, a site that is growing in appeal and popularity with each passing day.
There is no cost for qualifying businesses to join the ECA program and no fees to list their products or services. Once an application is accepted, the ECA simply follows the directions to post their product information on the site. …
TripleClicks is a secure site with a checkout that offers shoppers a variety of payment methods.
While there are no other costs involved for the ECA, ECA members do pay a nominal fee when a sale is made. This makes it very attractive as a low cost opportunity for small and medium businesses to gain wide exposure on the Internet and generate secure sales.
If you qualify as an ECA and join the ECA program here is how TripleClicks will help to advertise and promote your products, your services and your business:

1. TripleClicks (TC) currently has more than two million members: This gives you an instant base of potential customers. Also, the site offers products and services in close to 30 different categories. That means existing TC members can easily find your products when they are in the market for them.
2. Many TC members are also marketing affiliates with the SFI Marketing Group. SFI provides an affiliate opportunity where the primary focus is to advertise and promote the TC shopping site. SFI affiliates earn commissions from sales they generate on the TC site. In other words, the more sales they make, the more income they earn and that means they are highly motivated to advertise and promote TripleClicks to the best of their ability. Do you see how this benefits you as an ECA?
So, the combination of having a huge customer base and having an impressive number of marketers promoting the TC site makes the ECA program an extremely appealing e-commerce opportunity for the small business online.
Add to that the fact that the only cost involved to the ECA member is a small fee only when an item is sold, and you have a winning opportunity that deserves to be pursued.
Here is an added advantage: TripleClicks is developing into something much more than simply a shopping site. There are a number of features of the site that continually attract new members and keep existing members coming back again and again. TC members can participate in penny auctions, the monthly music contest, a variety of games, and they can even list their own items for sale on the site!
That is great news for you as an ECA: it means the site is active with members, and the more members that are active, the more chance your products and services have to be seen and sold.
And that brings us to the bottom line. If you are a small or medium business with commercial products or services for sale, and if you are looking for more exposure online and a low cost way to get your products and services advertised and promoted, then the E-Commerce Associates Program at TripleClicks is definitely for you.
Check it out now and discover for yourself all the benefits available to your small business online. Even if your home business does not qualify to be an ECA, you can still sell your items on the site through the TripleClicks member listings program.
~ ~ ~
* You might also enjoy these Internet Marketing posts:
~ E-Commerce Portal Perfect for Small Business
~ Earning Internet Income with TripleClicks
~ How to Start Earning Real Affiliate Income
~ ~ ~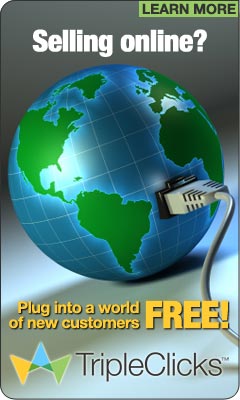 ~ ~ ~
Tagged with: e-commerce portal • small business online
Filed under: small business online
Like this post? Subscribe to my RSS feed and get loads more!