Create a Website TODAY With These Handy Resources
Monday, January 27th, 2014 at 10:25 am
GT Bulmer © Affiliate Power Central
You've got two choices when it comes to setting up your own blog or website: spend countless hours searching the Net for information to help you build a site and troubleshoot problems; or buy a step-by-step guide designed to simplify the process.
Today, let me tell you about two home business resources that will give you the basics of setting up a site and will guide you through the process from start to finish.
One resource is WordPress Crash Course Videos for people who prefer receiving instruction via video. The other is the WordPress Starter Guide for those who like their information in written form. …
I am not going to repeat a whole lot of the information about these two resources here. If you are interested, I encourage you to click on my affiliate links to view the information pages for each of them. And just so you know, if you purchase either of these products through my links, I do earn an affiliate commission.
The reason I am recommending them is because in both cases they provide complete and comprehensive information on properly setting up a WordPress website. By the way, you can use a WP site as a blogging site or as a regular website.
I have always believed that a serious Internet Marketer should have their own domain name and website, not an affiliate marketing site provided by the company or a free site hosted by someone else. It should be your site, your domain name. That way, nobody makes decisions about what is on the site or what you do with the site but you.
In my opinion, that is the professional way to run a business online!
Here is a little bit of information about each of these resources:
WordPress Crash Course Videos
This course includes 37 videos and a 23-step quick reference check list. It doesn't teach EVERYthing there is to know about WordPress, just the essentials so you can get your site up and running in a day or two. Learn everything you need to know in just two hours!
Click over to the WordPress Crash Course information page and watch the short, three-minute video. I think you will be impressed with what this video course has to offer!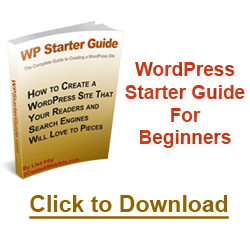 WordPress Starter Guide
This is a great guide for beginners. It is a 125-page PDF document that provides expert insight into key areas like site layout, navigation and all of the WordPress basics. Learn how to make the best use of both dynamic and static functionality to maximize the organization of your content.
Click the link for the WordPress Starter Guide information page to read what the creator of the guide has to say about it.
Effective Internet Marketing revolves around a website. Consider your site to be your home base online. Much of what you do as a professional Internet Marketer is either directed to or filtered through your website.
The WordPress Crash Course Videos and the WordPress Starter Guide are two handy home business resources that you may find invaluable as you work towards your Internet Marketing dreams and goals. If nothing else, be sure to visit the information pages to see what these resources are all about.
~ ~ ~
* You might also enjoy these Home Business Resources posts:
~ Website Traffic Tips for 2014
~ Six Ways to Make Money Online: Part Six, Pay-Per-Action
~ Persistence Paves the Way to Personal Success
~ ~ ~
Tagged with: create a website • setup a website
Filed under: Website Tips
Like this post? Subscribe to my RSS feed and get loads more!